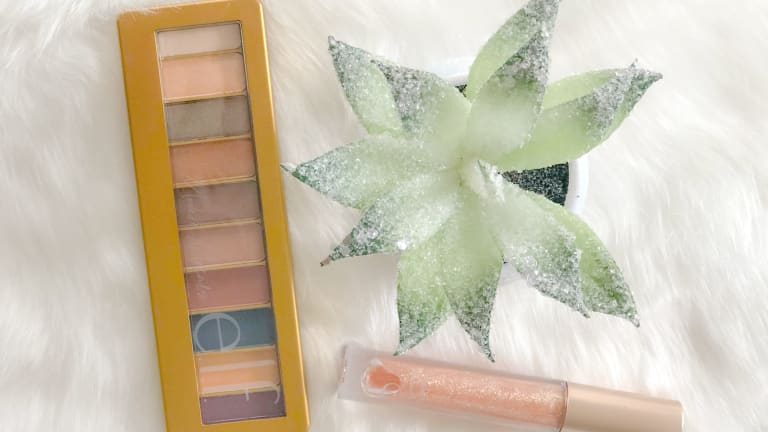 Are You Too Old for Glitter Makeup?
Can I ask you a question? How do you feel about glitter makeup? Do you think it's just for kids? Should it be brought out at Halloween and put away the rest of the year? Yeah, I get it. I was there too...Glitter makeup wasn't something I necessarily wanted to step out of the house in until I came across some glitter makeup that changed my mind. So, when I ask are you too old for glitter makeup, hold your answer. I just may change your mind too after you see these holiday ready e.l.f. finds that I'm sharing today! But first let's talk about this whole age appropriate dilemma...Shall we?
Are You Too Old for Glitter Makeup?
As women it feels like we're forever being told that we're too old. I mean you hit 30 and all of a sudden you're supposed to dress your age? No thank you. Now, don't get me wrong. I'll always subscribe to the rule of fit. If something fits you well, you'll just feel better in it. But being too old for something? Nope. I don't accept it. Of course, I'll be the 90 year old rockin' sequins with no shame. Bwah! You're only as old as you feel. And if you feel like you want to channel your teen self and sport a bit o' glitter, I say go for it! Plus, if you find yourself some glitter makeup that's more on the subtle side, you won't feel like an '80s pop princess.

And that's where I come into play today. I recently came across the e.l.f. Modern Metals collection and their eyeshadow palette and Liquid Gold Lip, in particular, caught my eye. If these metallic glitters don't scream holiday party, I don't know what does. And, let's face it, we all love a good holiday party! I've already started looking for my holiday party outfits and festive makeup will be the perfect finishing touch for my holiday looks. I bet if you test out the Modern Metals too, you'll find yourself pulling this palette and gloss out of your makeup bag when it's time to parTAY! Between the beautiful, golden shimmer and non-stick texture of the gloss and the variety of everyday neutrals and dressed-up glitter in the palette, your holiday beauty looks are going to be on point!
More Beauty Inspo
So, as you get ready for the holiday season ahead, don't forget to update your makeup bag, and remember, if you feel young, you are young! Forty is the new twenty, Baby. I can honestly say that while I've loved my thirties, when it comes time to bid them adieu, I think I'll be just fine. Glitter makeup will help. Haha!
For more beauty inspiration, check out the night cream I'm obsessing over. It's not your grandmother's night cream!
We were not paid for this post. We did receive samples.