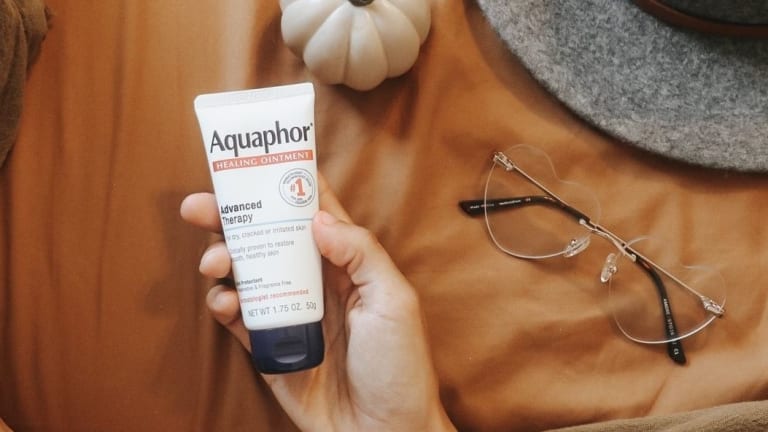 Aquaphor: Our Best Kept Secret Revealed
Favorite beauty hacks using a household name in baby care.
I'm a multi-tasking mama. I admit it. I listen to voicemails while I empty the dishwasher. I answer emails when I'm getting a blowout and I love beauty products that work as hard as I do. Aquaphor is a brand that sure does double-duty for moms. We all know that Aquaphor soothes little bums and keeps baby skin soft and protected. But how about the grown-ups in the house?
Did you know Aquaphor can be a beauty and baby life-saver? I'm sharing some of my favorite beauty hacks with this brand that has amassed a loyal cult following over the past 90 years.
My first life hack is lip care. This fall I'm loving bold bright lips. Many lipsticks and pencils can dry my lips out and ruin the look of the color. To maintain the healthy look of your lips and lock in color, slip on soothing and moisturizing Aquaphor Lip Repair. It's perfect to keep your lips hydrated this winter.
My next tip is about keeping your nails in great shape. To keep my nails in great shape, between manicures I smooth on Aquaphor Healing Ointment on my cuticles. It keeps them soft and now that the cold is settling into NYC it will provide a protective layer between me and the wind!
Dry skin doesn't just affect grown-ups. Little ones also suffer during the winter months. To tend to delicate skin, make Aquaphor Baby a part of bath time. Using Aquaphor brings soothing comfort and effective relief to dry skin.
When the wind is whipping and you've bundled up the kids, don't forget about little noses and cheeks. Baby's mouth, chin and cheeks can become chafed and chapped in the harsh weather. Use Aquaphor Baby Healing Ointment to help protect from wind and cold and prevent red, raw, irritated skin. Toss a tub in your diaper bag for all the outdoor adventures that await.
Aquaphor has been dubbed the unofficial "best kept secret" among beauty and parenting influencers like me. Use these hacks to give your beauty and baby care routines a boost. To get more information on unlocking the power of Aquaphor www.DiscoverAquaphor.com
The content and opinions on this blog are purely those of the author and do not reflect the views of Beiersdorf Inc., or any of its affiliates. The author has been compensated as part of the author's participation in this promotion. Even though the author of this blog receives compensation for the posts or advertisements, the author will always provide his or her honest opinion, finding, belief, or experience on those products. Any product claim, statistic, quote or other representation about a product should be verified with the manufacturer, provider or party in question. In addition, the author is professionally and/or personally acquainted with the manufacturer of the products being reviewed. Any results described by the author may not be typical of what consumers should generally expect. Lastly, the author of the blog is not responsible for any comments made in comment section of this blog.