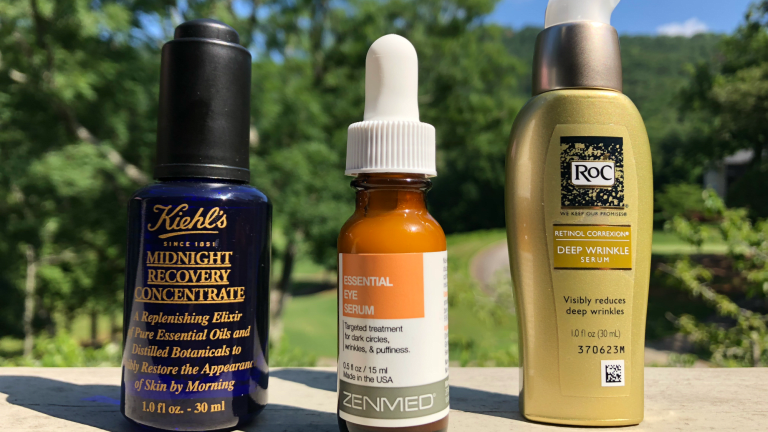 Three Anti-Aging Serums You Need Now
Fight the effects of time on your skin with these must try anti-aging serums...
What products are in your anti-aging arsenal? You'll definitely find anti-aging serums in mine. In fact, until the past few years, I didn't really understand how important serums were in my anti-aging routine. You see, my thirties aren't going to be around forever and there comes a point when cleansing and moisturizing aren't quite enough to do the job. Hey, I don't mind growing older, but I don't have to completely give into it, do I? Bwah! I didn't think so.
Anti-aging serums pack a powerful punch and if you combine them with cleansing AND morning and nightly hydration, your skin is sure to see a difference! So, I thought I would share a few of my favorite serums with you...Each one is a little different than the next, but they're all an important step. One is for day, one is for night and one is just for your eyes. Why don't we go with my go-to daytime serum first?
Anti-Aging Serums You Need NOW
RoC Retinol Correxion Deep Wrinkle Serum...I Have one word in regards to this serum...retinol. It works, plain and simple. I may not have super deep wrinkles yet, but there are a few that are a little deeper than I'd like. This serum is tackling those bad boys tout de suite. And while it may take a few months to see the big time results, your skin will feel velvety right away. Plus, it works under makeup!
Kiehl's Midnight Recovery Complex...This serum (actually, I think it's more of an oil) doesn't have a cult following for no reason. I don't know how it does what it does, but my skin simply looks better when I wake up after using it the night before. Basically, the powerful oils combine to give you deep anti-aging hydration.
ZENMED Essential Eye Serum...Bye bye puffy and dark undereye areas! The same to you fine lines! This serum fights them all. The eyes are the windows to the soul right? You don't want to neglect that area! I've been diligently applying eye cream since I was in my twenties and I think the dedication has paid off. It's never too late to start focusing on your skin y'all!
So, now that you've seen some of my must-have anti-aging serums, why not check out what I consider to be the perfect summer lip color?!
We were not paid for this post. Some samples were provided and it does contain affiliate links.