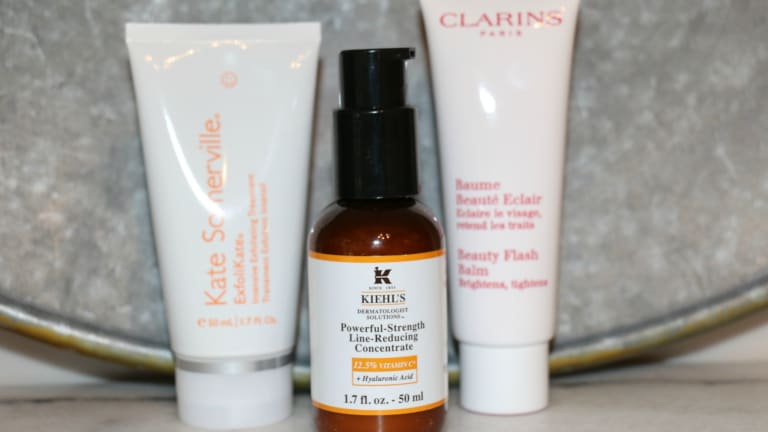 Publish date:
Anti-Aging Products in Your 30s
Here's the deal on anti-aging products...
It's the new year...And that means you're probably focused on a slew of resolutions or goals as I like to call them. I'm more likely to work towards "goals" if I'm not intimidated by them and resolution is such a big word to me, but I digress...So, let's talk about your new year goals shall we? Why not make one of them to step up your skin-care routine. If you're in your 30s like moi, anti-aging products should be in your regimen. And if they aren't, it's time to change that! Using anti-aging products in your 30s can slow down your skin's aging process and help keep that youthful glow we all want to hang on to!
The Best Skin-Care Routine for Your 30s...
Now there are three things I want you to focus on when thinking about anti-aging products in your 30s...Exfoliation, hydration and treatment. We could get away with skipping the treatment step and even the exfoliation step in our 20s, but in our 30s, those along with moisturizing, are all vital steps in the anti-aging process.  With exfoliation you slough of dead skin that can make your complexion look ruddy and dull. With hydration you help you skin retain or replace moisture to keep it from becoming to dry. Because when your skin is dry it tends to highlight any problems you have. And with treatment you can tackle those issues, like fine lines that have started to pop up. So, are you ready to hear about my latest favorite anti-aging products??
The Best Anti-Aging Products for Your 30s...
Kate Somerville ExfoliKate...This is the Cadillac of exfoliators. You will start to see softer, smoother, younger looking skin in mere minutes. If you have sensitive skin or don't typically exfoliate, I would start slowly and leave it on for the minimum recommended time!
Clarins Beauty Flash Balm...This is the kind of product us busy moms love because it's multi-purpose. It brightens and tightens at the same time. Plus, it serves as a nice matte base for your makeup. I like to apply it after a light moisturizer like Ultra Facial Cream.
Kiehl's Powerful-Strength Line-Reducing Concentrate...Those pesky fine lines. They bug you, but have you tried to get rid of them? Even if you have and haven't seen much improvement, that will change with this product. Thanks to the powerful Vitamin C based formula, those lines don't stand a chance!
As you can see, focusing on anti-aging products in your 30s is the time to do it! An ounce of prevention is worth a pound of cure right? If you didn't focus on prevention in your 20s, you still have time!
We were not paid for this post. We did receive samples.