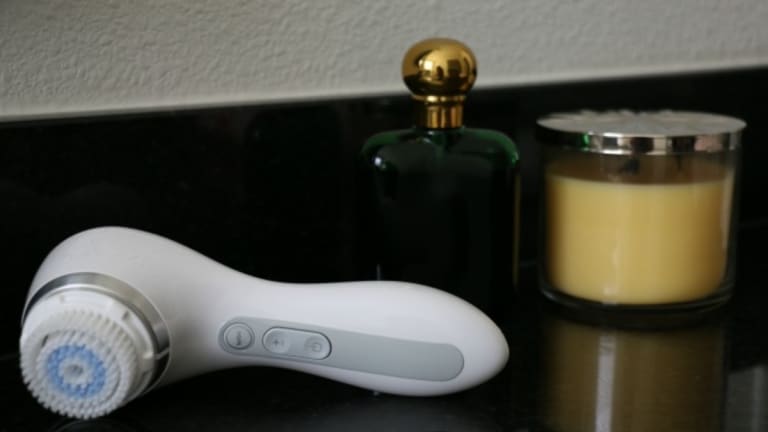 The Only Anti-Aging Device You Need
Come read all about the only anti-aging device you need, the Clarisonic Mia. It helps with fine lines, sagging, enlarged pores and more!
Say the term anti-aging around me and I instantly perk up. I'm at the age where I'm simply ready to look a wee bit younger. Sure, I'm still, technically, a young person, but I'm all about passing for my early thirties versus mid to late. Haha! So, you'll often find me testing out new products and anti-aging devices that claim to take some years off. 
Related: Have you tried a powder sunscreen?
The Only Anti-Aging Device You Need
They aren't all winners, but the Clarisonic Mia is an anti-aging device that delivers! Are you looking for firmer skin, less fine lines and improvement with sagging on your face, neck and décolleté.? Then this is the anti-aging device for you!
So, let's talk a bit about how the Clarisonic Smart Profile Uplift works. First, after about a week of cleansing with it you'll most likely see an improvement in the texture of your skin. I'm talking about minimized pores and diminished fine lines. And after using the massage feature for 12 weeks or so, your skin will probably look firmer too. I know that's been the case for me.
It might not be a hugely perceptible change to everyone around me, but I certainly know my own skin and when it looks better, I can definitely tell. That's what's most important right? Being comfortable in your own skin. And I'm more comfortable when I feel like my skin's in great condition. I don't really have a lot of sagging to contend with yet, but I'm not looking to get there anytime soon, so I consider use of the Clarisonic Smart Profile Uplift as part maintenance and part prevention!
So, have you tried an anti-aging device lately? What are some benefits you saw? Inquiring minds want to know! I'll certainly keep using the and report back as I get further along into the routine! Get your Mia on Sephora here.
And for more beauty tips and tricks, check out our some of our favorite firming skincare products!
We were not paid for this post. We did receive some samples.
For even more Momtrends, follow us on Facebook, Twitter, Pinterest, and Instagram.