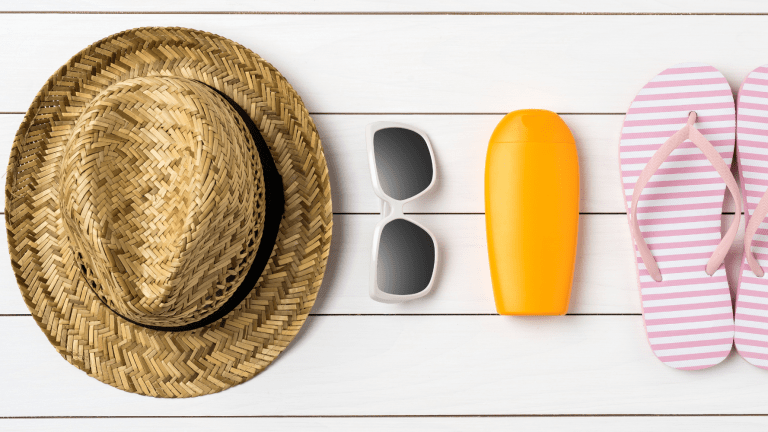 A Dermatologist's Top 5 Tips to Changing Your Summer Skincare Routine
Hint: Sunscreen, sunscreen, suncreen!
Summer is here, and if you want want to soak up the sunshine without damaging our skin, you're going to have to make a few key changes to your routine. Keep the ingredients light and streamline your products to keep your face looking its best. We reached out to NYC board-certified dermatologist, Dr. Joyce Davis, for her top tips to get your glow on this season.
Find multi-tasking products: Today, I think it's all about multitasking, you can find one product that can do a few different things for you and it simplifies your routine. Your makeup has sunblock, antioxidants, anti-aging ingredients in it. The more the better and as long as it is applied well and looks good on your skin.
Be moisture smart: For oily skin, mainly in younger people, they cannot take too much product on their skin without breaking out so everything in skincare and makeup should be oil free. Younger people cannot take too much, a cleanser and a multitasker foundation or sunblock. Basically you can have one product under your makeup and that's it. If you put too much makeup on you're going to get clogging, especially for women in their 20's and your skin tends to become more dry as you get older and reach menopausal years, so you want to add moisture to it, when possible.
Sunblock only: Sunblock is very important for our skin and you should apply that separately. I would recommend to skip the moisturizer and apply the sunblock under makeup. If you are fair skinned , you cannot assume you will get enough sunblock from your makeup. Sunblock in your makeup may not be strong enough for your skin type, it may only be SPF 15 in your makeup and if you have fair skin, you will need a higher SPF like a 40 and 50.
Apply makeup sparingly: With makeup, it means product in question is too heavy for the skin. You also have to adjust what you use by the season, in the winter months, your skin is dry so it can take more product on it. Whereas, in the summer months, your skin will make more of its own oil from the heat and you cannot add too much product on top of that. For example, in the summer you should use a makeup that has a sunblock built in. A great tinted moisturizer with an SPF 30 is the Nuetrogena radiant tinted moisturizer.
Choose antioxidants: We all want to wear makeup of course, which will have antioxidants in it. This usually goes on smoothly and they don't tend to put too strong of a sunblock in makeup or it ends up getting cakey and doesn't work well on the skin. Biotin is also an essential ingredient for the skin, you can take this orally too from a multivitamin like the vitafusion gorgeous hair, skin and nails gummy vitamins, a retinoid at night is great too, along with some anti-aging products.
Want more from Momtrends?
1. Quarantine Skincare: Perfect Time to Peel
2. Makeup Ideas for a Low-Key Summer
3. 3 Powder Sunscreens to Try This Summer
This is not a sponsored post.