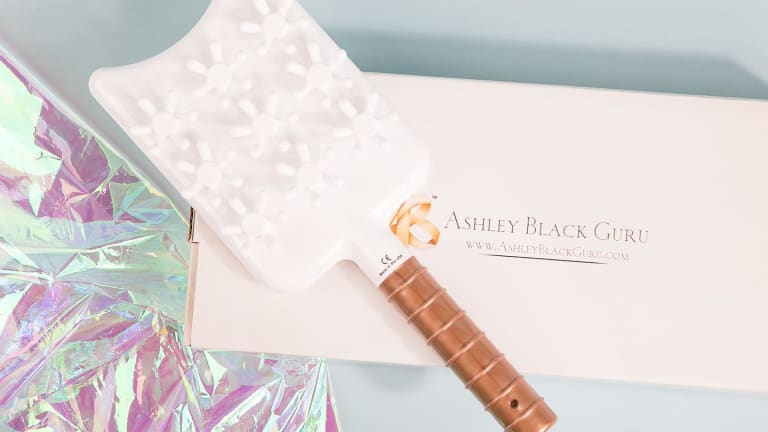 5 Ways to Deal with Cellulite
Here are 5 ways to deal with our old friend cellulite.
It's everyone's favorite dimpled friend! Well, maybe not favorite, but I do mean practically everyone. According to one source, 95% of ALL women get cellulite. And it usually starts showing up in your late 20s to 30s. That means with perhaps the exception of that 18-year-old rocking the itty-bitty bikini at the beach, nearly every other woman—whatever her size, shape or weight—is dealing with a pucker here or there....or everywhere! Here are five ways to deal.
We aren't going to get too deep into the science of cellulite here, but here are the basics. According to Wikipedia, cellulite is the "herniation of subcutaneous fat within fibrous connective tissue that manifests topographically as skin dimpling and nodularity"—which translates to mean pockets of fat get stuck under the fibers of your skin which creates a cottage cheese texture. Women are more susceptible than men, and it can impact women regardless of weight or body size.
Let's be clear - cellulite is not a problem you need to deal with (see tip #5). But you may not like it. You may want to do things to minimize it. But it's not something horrific, worthy of avoiding shorts seasons or not donning a swimsuit at that pool party. It's like having a booger. On your thighs. That said, if it bothers you, here are some options to consider.
Hide It
Here's the simple truth: cellulite causes dimpling and dimpling causes weird shadows on your skin. And rocking a faux tan makes those shadows history. I'm currently loving self-tanners from the Australian company Bondi Sands. I love the Liquid Gold Self-Tanning Dry Oil which gives moderate color and moisturizes your skin with argan oil, or for actual, believable "I've been in Bermuda for the last week" color (in mere minutes, mind you), the Self-Tanning Foam in dark, as shown. Be brave with going for the dark—the light version won't do much for you unless you're uber-pale—and even though this dark foam pic looks pretty dramatic, I didn't have a single person give me "who just put on self-tanner" double-take that day. A single coat of the dark foam will give you this glorious glow, smells vaguely like coconut (not that awful self-tanner smell), and lo and behold, no one will even look at your cellulite with a tan like this. For under $2 to $3 an application. (Side note: I've recently found my very favorite self-tanning mitt.)
Plump It
Love your morning cuppa joe? So will your thighs. Caffeine-infused lotions can temporarily spike circulation in the thighs and buttocks, creating a smoother skin appearance. Add a retinol cream on top of the caffeine cream which will work to boost collagen and repair cell structure. Try Philosophy Help Me Retinol Night Treatment or opt for a combined retinol/caffeine cellulite treatment like this Luxe Spa Anti-Cellulite Cream. Remember, these are just temporary and will provide moderate results at best.
Knead It
Back to the science of cellulite: cellulite is fat stuck in pockets under your skin. If if was just loose, the fat wouldn't look dimply, but it's stuck in this connective tissue of your body called fascia. Simple massage can improves blood flow and get rid of excess fluid, which may make dimples less noticeable, but actually breaking down these layers of fascia under your skin can release the fat causing the look of cellulite altogether. Meet the FasciaBlaster from Ashley Black. The FasciaBlaster is a manual, at-home device that allows you to break up the fascia, smoothing out the tissue (and fat) underneath. This unique device can help with everything from the appearance of cellulite to body pain and muscle recovery for athletes.
To use, you oil up the body part you want to treat and then with moderate pressure, move the FasciaBlaster back and forth over the skin. I heard creator Ashley Black describe it with this analogy: imagine you have a massive knot in your hair. A foam roller is the equivalent of running the smooth backside of your brush over the knot. It's not going to do much. Instead, you need to get down into the mess of the knot (or your cellulite or muscle pain, if you're still following the analogy here) which is where the teeth of the FasciaBlaster come in. There is definitely a learning curve to using the device (there are lots of videos online to help), but I love that it's an affordable solution to deal with both cellulite and general body pain from stress, workouts, or heredity. Check out one of the before & afters from using the FasciaBlaster for cellulite!
Treat It
For a longer-lasting treatment, you may need to head to your local dermatologist or plastic surgeon. In-office, minimally invasive treatments like Cellfina, the most recent FDA-approved device for cellulite, lasts three years plus from just one treatment. Cellfina also focuses on the primary structural cause of cellulite—the connective bands woven throughout fat in the thighs and buttocks. The treatment involves numbing the area, suctioning the skin to even out the skin, fat cells and connective tissue, and then using a micro-needle to cut and release the connective tissue holding the fat cells in place and creating the look at cellulite. Downtime is minimal, only ONE treatment is needed and results last for years!
Rock It
Life is so much bigger than cellulite. Kick your worry to the curb and rock your short shorts or swimsuit with pride!
Here are 5 ways to deal with our old friend cellulite.
More Beauty Features from Momtrends 
PIN IT!
Now that you've found out how to get firmer looking skin, don't forget to save our favorite beauty tips and follow along for more with our Pinterest beauty board!
Momtrends was not paid of this post.
Affiliate links included. Opinions - and cellulite - are our own.