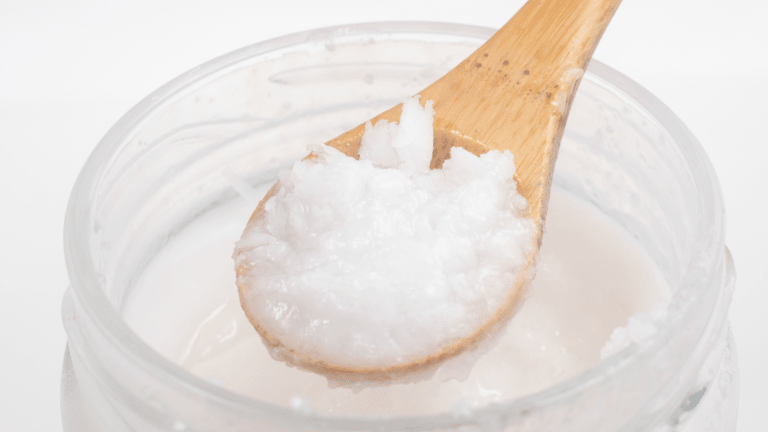 5 Ways to Add Coconut Oil Into Your Beauty Routine
We shared some of our favorite ways to use coconut oil for your hair, skin and more!
I hopped on the coconut oil craze a while back, but then, like many things, kind of forgot about it. Recently though I've come back to coconut oil and have been using it throughout my beauty routine and loving how simple, easy and effective it is. Here are five ways that I've been using coconut oil outside of the kitchen.
One of the great things about coconut oil is that it is very shelf-stable so it doesn't break down and go rancid like many other oils, it doesn't need to be refrigerated, and it's a solid at room temperature making it easy to work with. I love that it is also antibacterial, anti-fungal, and anti-viral. Here are five ways I've been using coconut oil in my beauty routine.
Mascara Remover
After bitterly making my way through two bottles of different eye makeup remover that left me unsatisfied, I pulled out my trusty coconut oil one night and rubbed it all over my eyes. I ended up looking like a raccoon, but after two swipes of a cotton square, my mascara was all removed! And my skin softened! And my lashes conditioned! All without any tugging, excessive rubbing and bitter grumbling. It's now my go-to method for eye makeup removal.
Face Wash
Since it worked so well for my mascara, I thought, why not my face? Now while there are many fans of the oil cleaning method, I've heard that coconut oil doesn't work for all people. Some people prefer jojoba, almond or even olive oil. But for me, it's worked like a charm. I take a small handful of coconut oil and massage it all over my face, wiping off the excesses and my makeup with a cotton square. It not only easily dissolves my makeup, but it moisturizes and protects my skin too. And no, you don't end up with a face full of oil. Just soft, supple, makeup free skin.
Body Scrub
I've posted about this one before, but I make one of my favorite body scrubs with sugar and coconut oil. I've given it as holiday gifts to my girlfriends and always keep a jar of it in the shower. It's so simple to make and both exfoliates and moisturizes your skin when you use it. You can even personalize the scent by adding your own combination of essential oils.
Body lotion
Have you ever looked at the ingredients in lotion? For most, the first ingredient is water. And do you know what happens when water is on your skin and evaporates? You get drier! Instead, I keep a jar of pure coconut oil in my shower and slather some on right before I get out. It locks in the moisture, isn't greasy and moisturizes my skin so much better than regular lotion. I have a pebble-bottom shower, but if you have a smooth shower base, do be careful about slipping!
Hair Mask
Finally, I've also been using coconut oil as a hair mask in the shower. I'll put a handful of the oil on my ends and then let it sit for 2-3 minutes while the heat of the shower causes the oil to melt and my tresses to be moisturized. My split end solution!
Be sure to look for coconut oil that is organic and either cold-pressed or expeller-pressed. While you may want to start slowly with a small jar, once you're using it widely in your beauty routine AND kitchen, you may want to upgrade to a larger container. I buy in a gallon bucket!
Get your starter container of coconut oil on Amazon here. (note: this is an Amazon Affiliate link)
Do you use coconut oil in your beauty routine?
MORE BEAUTY FEATURES FROM MOMTRENDS
Best Retinol Products--our favorite ways to keep skin looking vibrant
Best Dark Circles Treatments for Under Your Eyes--mom-tested products to make you look like you got 8 hours.
Best Sunscreens--picks to keep the sun from damaging your skin as you play outdoors.
PIN IT!
Save our must-try beauty tips and follow along for more with our Pinterest beauty board!
Momtrends was not paid for this post.