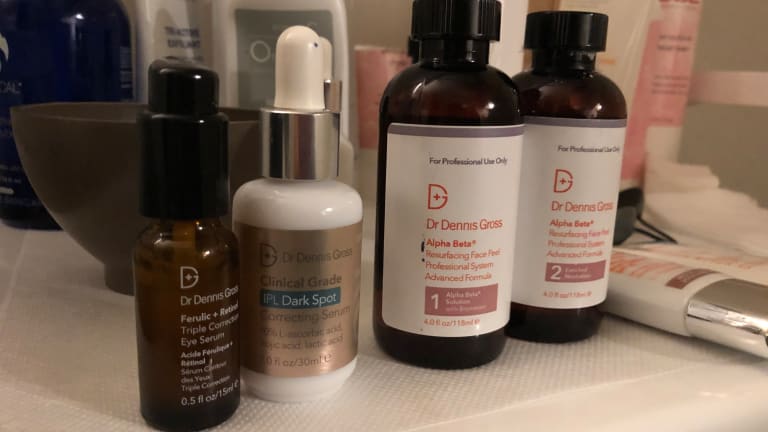 5 Reasons You Need a Detox Facial from Exhale Spa
Exhale has partnered with Dr. Dennis Gross to introduce the new Detox Facial.
How do you feel about a no makeup selfie? It can be dicey, but not if you take care of your skin. I'm all about keeping my glow into my 40's. I love trying non-invasive skincare techniques that help give my skin a boost. While chemical peels and lasers are can give results, I don't have time for down time. That's why I was so excited to hear that Exhale has partnered with Dr. Dennis Gross to introduce the new Detox Facial. 
This is a new treatment on the Exhale Spa facial menu that's perfect for busy moms. I tested it out at the NYC Central Park South location and loved the results. 
Who Should Get the Detox Facial
The Detox Facial is great general skincare, it's perfect for uneven, acne prone, or oily/combination skin types because the powerful detox will leave your skin glowing and nourished. 
It's especially good for revitalizing skin. It battles congestion, dark spots, wrinkles and dryness. And for those of us who live in NYC, it can help undo the daily nasties we expose our skin to. Living in The Big Apple means I have to deal with heavy traffic toxins and environmental free-radicals.
According to Dr. Gross, gases like nitrogen oxide and microscopic particulate matter, which seep through pores, releasing free radicals that destroy the skin's defensive lipid barrier, poke holes in collagen and suck out moisture. These environmental aggressors contribute to the fine lines, uneven texture and pigmentation we associate with aging. 
About Dr. Gross Products
Dr. Gross is a native New Yorker and a board-certified dermatologist and dermatologic surgeon. He's practiced in New York City for 25 years. and from his practice developed a line of award-winning skincare. The facial uses Dr. Dennis Gross products.
To combat city skin damage, he has developed a new clinical-strength peel launching exclusively at Exhale in their newest vegan menu offering, the Detox Facial. The new peel blends his Alpha Beta® acid technology with medically proven exfoliating enzymes that eliminate surface dullness while dramatically improving texture, tone and radiance. There's no downtime or redness. It's a fabulous peel.
What to expect with your Detox Facial
I went to visit the 150 Central Park South New York NY 10019, located at Central Park South location, the space is under some scaffolding but the interior is fresh and pretty. 
There's a spacious changing area near the workout zone. The lounge is on the small side, it's not an exceptional spot for sipping tea before your treatment. But since my calendar is packed, I don't need the frills of a resort spa, I want treatments that work and a well-trained staff. Exhale offers both.
The facial is $245 for an hour. The treatment uses a combination of the Pure liquid peeling system of Alpha Beta Acid Technology and medically proven exfoliating enzymes to eliminate surface dullness while dramatically improving texture and tone. I will definitely go back for this treatment. 
Get more information on the facial here.
For a full list of locations, head to https://www.exhalespa.com/ to pick your region. Note: All reservations must be canceled at least four hours in advance. Cancellations within four hours will result in a charge to your credit card on file. Cancel your reservation online or by calling.
Tips for visiting Exhale Spa for a Detox Facial
Exhale offers these tips for getting the most out of your treatment:m 
Please arrive 15 minutes before the start of your therapy to check-in and get settled.
Take a few minutes before your therapy to focus on your breath for a few deep inhales and exhales.
Before or after your therapy, enjoy a cup of healing tea. 
MORE BEAUTY FROM MOMTRENDS
PIN IT!
Use pinterest to save your favorite beauty tips. Be sure to follow our Beauty board here.
MomTrends was not paid for this 5 Reasons You Need a Detox Facial from Exhale Spa feature. The treatment was complimentary and I ended up spending $200 on additional products.