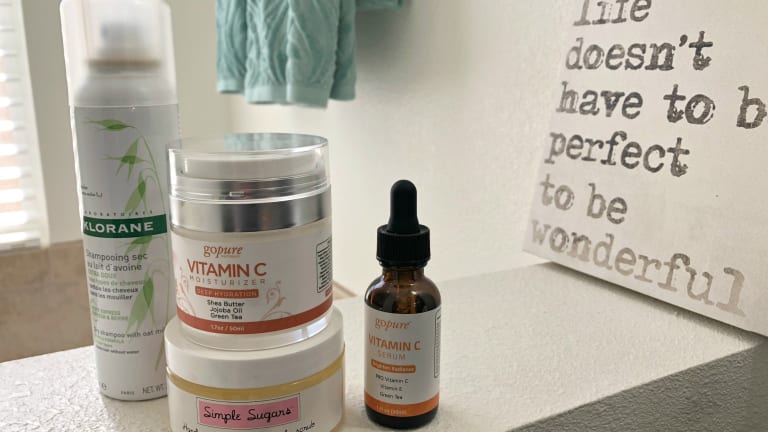 4 Natural Beauty Products That Really Work
Upgrade your beauty routine with these natural beauty products...
Raise your hand if you want to add more natural beauty products and ingredients to your daily routine? You know this girl does! I've been natural things more and more into my skin and hair care regimens. And I'm happy to report that there is no shortage of truly effective natural products out there. I've certainly found some winners. And, frankly, even if they aren't filled with 100% natural ingredients, if they're paraben-free and sulfate-free, for example, I'm more willing to try them. 
Just making a little change like that is a step up from the fully chemical laden products you may be using right now. And since I've been trying out so many organic, vegan, cruelty-free and natural beauty products lately, I thought it would be fun to share some of my favorite new finds with you! 
Natural Beauty Products That Really Work
goPURE Vitamin C Serum...Vitamin C is a go-to anti-aging ingredient of mine and this natural face serum has it bottled up just right. It also contains another of my holy grail anti-aging ingredients, hyaluronic acid. Get ready for a more even skin tone! And goPure products never contain parabens, artificial fragrances, propylene glycol, hydroquinone, formaldehyde, sls or dyes, plus they're cruelty free.
goPure Vitamin C Moisturizer...Use this antioxidant packed moisturizer after your serum and you'll have that hydrated, youthful glow you're after in no time! Again there are no parabens, artificial fragrances, color additives, glycols or sulfates in this product! 
Simple Sugars Body Scrub...Now that we have your complexion covered, let's tackle the rest of your skin! After finding this line a couple years ago, it's now one of my very favorite natural skincare lines! Their incredible body scrub leaves my skin so soft and super moisturized. And it's made from 100% natural ingredients. I'm partial to the almond, but if you have a nut allergy, you're going to want to pick a different one. Coffee is pretty killer too!
Klorane Dry Shampoo with Oat Milk...This botanically based formula is ultra effective and smells great! The organically farmed oat milk works to soak up excess oils and give you more lift and volume. And it's hypo-allergenic and vegan too! 
So, there you have it. I hope you'll give some of these natural products, as well as the ones that contain more natural ingredients, a try. Like I said, just getting rid of the parabens is a great step!
And for more beauty trips and tricks, check out our thoughts on how to get thicker looking hair!
We were not paid for this post. We bought these products ourselves, but this post does contain affiliate links.