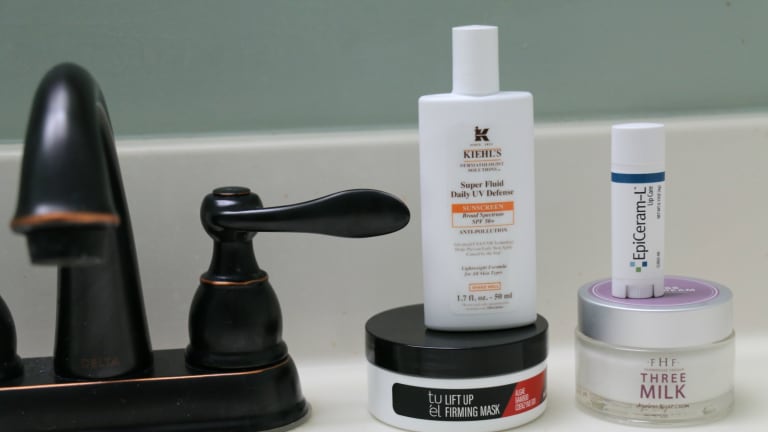 Spring Skincare: 4 Anti-Aging Products to Try
Get younger looking skin with these must try anti-aging products...
Get younger looking skin with these must try anti-aging products...
Who's looking for some new anti-aging products to try? You know this girl always is! With every new season I find myself wanting to switch up my skincare routine a bit. It's the perfect time to try out new products and, being that spring will be here before we know it, I thought it would be fun to share some new anti-aging products that have come to my attention. You know how much I love testing out skincare products for you and that goes double for those that tackle those oh so pesky signs of aging!
4 Anti-Aging Products to Try Now
Kiehl's Super Fluid Daily UV Defense...Let's start with prevention. The ultimate anti-aging tool is protection. I slather on a sunscreen daily no matter what the season. I love how this product not only has broad spectrum SPF 50+, but it protects against pollution and damaging free radicals! Plus, it's super lightweight, absorbs like a dream, is matte and blends great with my tinted moisturizer!
Epiceram-L Lip Care...I know I'm not the only girl who's had to deal with icky chapped lips this winter. Well, this paraben-free formula is a game changer. The lipids soothe and heal your lips in no time making them ready for those bright lip colors we love rockin' in the springtime. It makes me so happy when I find natural products that deliver serious results!
Tu'el Lift Up Firming Mask...Two words that you want to associate with an anti-aging mask: lifting and firming. Am I right? Get ready for a youthful, radiant glow paired with a little firming action. I try to use a face mask at least once a week. I definitely notice a difference in my skin when I'm using one regularly and this one is going to be on repeat!
Farmhouse Fresh Three Milk Ageless Night Cream...I opt for thicker, creamier night creams in the winter, but when spring hits, I swap those out in favor of lightweight versions. This night cream is the perfect weight and absorbs instantly. No greasy after feel! The retinol will fight those wrinkles, while the moisturizer hydrates your skin!
So, are you ready to add a new product or two to your spring skincare routine? I promise these anti-aging products won't disappoint!
We were not paid for this post. We did receive samples and it does contain affiliate links.