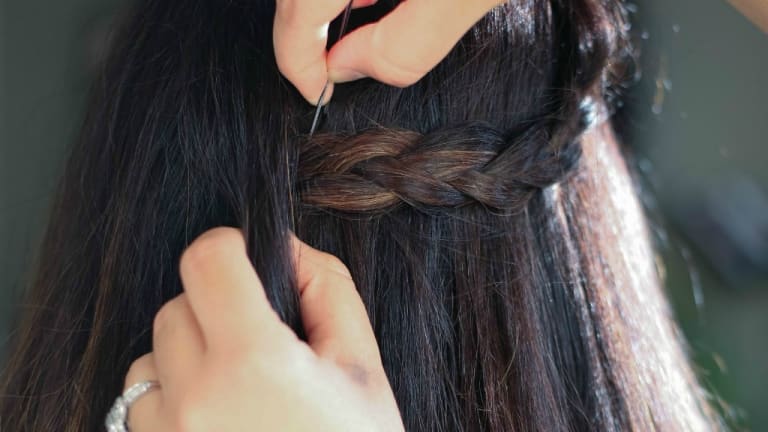 3 Easy Braids for Summer
Beat the heat with these 3 easy braids for summer...
Who wants to see 3 easy braids for summer? I knew you would. And they couldn't come at a better time. Am I right? This has been one of the hottest summers I can remember... And it's just getting started. Oh boy! Thanks to the brutal heat I've found myself living in shorts and getting my hair off my neck as often as possible. And that means I've been braiding my hair nearly every day. I have pretty long, thick(ish) hair, so leaving it down is simply not an option most summer days. I swelter under the high temps alone. So, wearing what is basically a blanket around my shoulders is not an option. Bwah! That is why I have some go-to easy braids for summer that I can fashion my hair into with barely any time required!
Easy Braids for Summer
Side braid...I'm going to start with the easiest braid because believe me when I say it doesn't get any easier than this. You know that quick and easy 3 piece braid we all know how to to do, well, it's my go-to summer style! And it's also my easy hack for making hair look even thicker. I simply loosely braid it to the side and pull out the pieces a bit so the braid looks bigger...Elsa style! Bonus points if you work with your hair's natural texture. Wavy/curly hair looks great in braids too!
Half-up braid...If you can stand to have your hair down, but you want it off your face a bit, this is the braid for you. It's perfect for any event or even just an ordinary summer day. It looks harder than it is. Trust me! This mama doesn't have time to spare even on days I'm going out. There are kids to be fed, overnight bags to be packed...You know the drill!
Braid within in braid...This braid is like a combination of the previous two braids. It's still super simple, but a little more special than an ordinary side braid. It's basically a side braid with another smaller braid running inside it. It also serves as a "make your hair look thicker" trick. 
So, there you have it...3 easy summer braids to try. It doesn't get much easier than these simple summer braid ideas! I promise you'll look and feel great if you give even one of them a whirl.
And for more summer beauty tips, check out the anti-aging serums we can't get enough of!
We were not paid for this post.