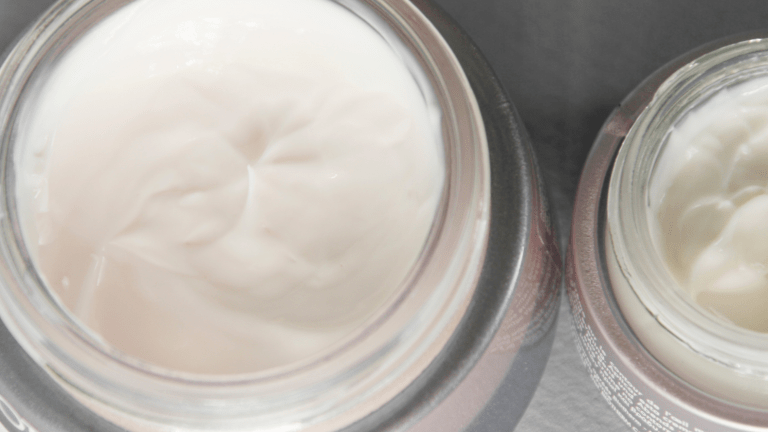 Momtrends MVP's: The Best Eye Cream
Whether you want to target fine lines, under eye circles or just need a little extra hydration, there is an eye cream for you.
If I asked you to detail your daily skin care routine, would eye cream be at the top of your list? Is it on your list at all? If not, it's probably time to test out a new product or two for your regimen. Don't worry. Momtrends has you covered with our top picks for the best eye cream! That's right. 
Today's beauty MVP's list is all about the eyes! Before you read on, you might want to check out our Momtrends MVP's: Face Masks roundup too, but I digress...
The Best Eye Creams
Personally, I apply eye cream in the morning AND at night. I even apply it during the day sometimes if the area around my eyes feels dry. Let's face it. When doesn't your skin feel dry in the winter? And that, my friends, is why I always have my trusty eye cream handy. I keep a jar in my bathroom, a tube in my purse and even some samples in my kitchen bar drawer. Haha! It may seem excessive, but I have a good reason...
My eyes have always given me away. I may have a solid poker going, but if you really look into my eyes, you'll know exactly how I'm feeling. That means those crow's feet of mine get a lot of action. Hence, the ever-growing importance of eye cream in my skin care regimen. Those little lines remind me about all the happy times I've had in my life, but I wouldn't be mad if they were a little fainter. Haha!
If you're in the same boat, this Momtrends MVP's edition is a must read! I rounded up a slew of super effective eye creams. Whether you want to target fine lines, under eye circles or just need a little extra hydration in that area, I promise, there is an eye cream for you here. This girl has all those issues and I am sure I am not the only one in that boat. Raise your hand if you need a powerhouse eye cream STAT.
Eye Creams are Essential for Moms
Let's be real. Like many of you, I am a mom. Most days I am over tired, overworked and over busy. That means I need products that do their job. I certainly don't have time to waste on anything ineffective. These days are long, but I know the years will be short, so I am definitely happy to sacrifice some sleep for motherhood. That being said, I will also happily accept the youthful boost that anti-aging and moisturizing products give me.
We don't have to sacrifice all our sparkle mamas! When someone looks into my eyes, I want them to notice depth and sparkle. I don't need them to know that I got four hours of sleep. Bwah! Thank you eye cream! And when all else fails, make sure you have a pair of oversized sunnies handy. Sometimes even the best of eye creams can't save the day. It's amazing how refreshed you can look with fabulous sunglasses and a swipe of bright lipstick.
But we're here to talk about eye cream. If used regularly, it will do its job. But it's not like a face mask, in most cases there isn't an instant glow. You need to commit and make eye cream a daily habit. It's worth it. That daily use pays off in a major way! So, get ready to add a new must-have product to your daily routine. A good eye cream is worth every penny you spend on it...
Best Eye Cream for Dark Circles: 
I am very fair and like most people with my complexion, the skin around my eyes is very thin. You know what that means. My dark circles are very visible. There is no hiding it when I don't get enough rest, which is most of the time these days. 
So, I rely on products that can help fight the effects lack of sleep has on my skin. Reducing the appearance of dark circles is a tall order and one that many eye creams fail to fulfill. This Sunday Riley product is not one of those. You can expect to see a depuffing difference thanks to the magical caffeine and Brazilian ginseng root combination. 
Plus, it's no slouch in the hydration and anti-aging departments either. Cocoa and shea butter moisturize while concentrated horse chestnut and acmella oleracea work together to lift that delicate area. It's magic!
Sunday Riley Auto Correct. (note: this is an Amazon Affiliate link)
Best Hydrating Eye Cream: 
If you read my other beauty MVP's pieces you know how much I love sharing cult favorites. Drugstore brand Cerave has a cult following with very good cause and this eye cream is one example why. 
It's hydrating enough to use before you do your eye makeup as it goes on super smoothly. And while it's extremely moisturizing, it also absorbs pretty quickly which makes it a perfect precursor to your makeup.
Plus, it has two of my very favorite moisturizing and anti-aging ingredients hyaluronic acid and nicacinamide! For a budget-friendly eye cream option, Cerave really does the job.
Get the Cerave Eye Repair Cream on Amazon here. (note: this is an Amazon Affiliate link)
Best Natural Eye Cream: 
Juice Beauty is a go-to natural brand for me. It is not a budget brand, but their products are worth every dollar because they're extremely effective. 
The certified organic ingredients, essential fatty acids, botanical juices in this gel eye cream tackle fine lines and dark circles alike. It contains another of my favorite skin treatment ingredients Vitamin C as well. It's the best skin brightener!
Anytime you need an extra hydration boost, this is the cream to turn to. Its super rich texture is not one that absorbs quickly, but it is worth the wait. And it comes in sustainable packaging too.
Get the Juice Beauty Stem Cellular Anti-Wrinkle Eye Treatment on Amazon here. 
(note: this is an Amazon Affiliate link)
Best Eye Cream for Wrinkles: 
As far as drugstore brands go, RoC is one of the most effective out there and their eye creams are no exception. I really like this one for tackling pesky crow's feet. 
My fine lines are a bit deeper than they used to be, so retinol is now an integral ingredient in my routine. This cream gave me finer lines pretty quickly. It wasn't overnight, but I would say that I noticed a substantial difference within a few weeks. I'll take it! 
And you can't beat the price! It's a fraction of the cost of some of the others we mention in this piece.
RoC Retinol Correxion Line Smoothing Eye Cream. (note: this is an Amazon Affiliate link)
Best Brightening Eye Cream: 
This eye cream has what it does right in its name. It brightens your under eye area nearly instantly. I know I said most of these products required some commitment before you would see results, but this one is pretty immediate thanks to light reflecting mineral pigments. And Vitamin C ensures long-lasting brightening.
And another thing I love about the Banana Bright+ Eye Creme product is that it is fragrance-free which is perfect for you fellow sensitive skin folks. It also contains collagen which is great for plumping up that under eye area.
Have I sold you yet?
Get the Banana Bright+ Eye Creme on Amazon here. (note: this is an Amazon Affiliate link)
Best Eye Cream for Puffy Eyes: 
Next to my dark under eye circles, my puffy eyes are my biggest eye area problem. There is too much on my plate and not enough time to do it all, so, naturally, I lose sleep. And being that my schedule probably isn't going to be any less packed in 2023, at least not until summer, so I will continue to fall back on products I can rely on to fight my puffy situation. 
This Inkey List eye cream is aces at de-puffing. It helps you look wide awake, even if you aren't. Haha! The caffeine formula helps reduce water retention which is responsible for puffinss. 
Did I mention that it's a total bargain. You get bonus points from me if you keep it in the fridge for an extra cooling effect!
The Inkey List Caffeine Eye Cream
Best Firming Eye Cream: 
Sephora's brand offers up some great skincare options and their firming eye cream with peptides is a great example of this. And at under $20, it's a steal!
What makes this eye cream so special that the payoff is huge. If you love a good holy grail anti-aging product as much as me, I highly suggest you give this one a try. It firms up that delicate area under your eyes with peptides and addresses fine line concerns too! 
This is another eye cream that truly fights crow's feet like a champ! And even though the formula is on the thicker side, it absorbs beautifully.
Get the Sephora Pep Eye Cream here.
Best Eye Cream for Sensitive Skin: 
If you have sensitive skin, you don't have to be concerned about irritation with this eye cream. The last thing you want to irritate is the area around your eyes. The super gentle formula in this First Aid Eye Cream allows you to get the hydration you need and the anti-aging action you love without aggravating your sensitive skin. 
As someone with very sensitive skin, I know how frustrating it is to try products that seem to work for everyone else, but not you. This is not one of those products!
First Aid products, in general, are very gentle, so I highly suggest you look into their other products like my go-to face cleanser!
Get the First Aid 5 in 1 Eye Cream on Amazon here. (note: this is an Amazon Affiliate link)
And that, my friends, is all she wrote. I think our latest beauty Momtrends MVP's edition should give you plenty of eye cream options to mull over. 
It's completely understandable if your regimen has fallen by the wayside as of late, but now is as good a time as any to focus on your skin again. 
It doesn't have to consume your life, but a few extra minutes a day can make all the difference. I highly suggest that you let one of these best eye cream picks take up a bit of that time!
Stay tuned for our next Beauty Momtrends MVPs -- up next will be our daytime moisturizer picks.
Momtrends MVP's is a non-sponsored series. Brands must meet our strict standards to be included. When naming winners we take several factors into account, including expense, convenience, and style.
We make our picks annually based on editors' research. In some instances, we may request and receive samples so that we can more thoroughly assess products. Our opinions are our own, and our goal is to help our community of moms make more informed decisions on everything from baby gear to beauty products to vacation destinations and more. We scour the abundant options and painstakingly hand-pick our favorites, so you don't have to. Our hope is that our most valuable players become your most valued purchases.
MORE BEAUTY MVP's FROM MOMTRENDS
PIN IT!
Use Pinterest to save your favorite beauty finds. Be sure to follow our Beauty board here.