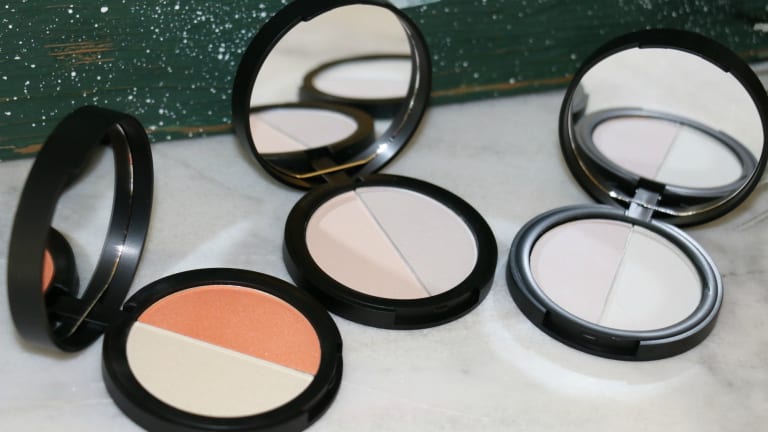 How to Sparkle for New Year's Eve
Shimmer and shine...
With Christmas almost said and done, it's about time we focus on New  Year's Eve, don't you think? NYE Is a BIG deal in my house and I look forward to planning our family's looks each and every year. Because while we prefer to avoid the crowds and celebrate at home, that doesn't mean we don't do it up in style. In fact, we all get all dressed up, cook a fancy, meal, pop some corks and make the holiday as festive as possible! So, if you too are considering a fancy at home celebration this year, don't forget your look! Mama needs to shimmer and shine...and SPARKLE too!
Enter e.l.f. They have just what you need to sparkle this New Year's Eve minus a big price tag. If you haven't yet delved into highlighter, for instance, now might be the time. There's an Highlighting Holographic Duo for everyone. Get ready to look simply luminescent after swiping on these chrome inspired colors! I'm partial to Siren's Call, but Mermaid Tail and Blue Lagoon are pretty special too!
Now that we have your face covered, let's focus on the eyes...another place that begs for sparkle. With e.l.f. Stardust Glitter eyeliner you can transform your every day eyeliner into a New Year's Eve worthy look! Or you can just rock it alone for a slightly more subtle vibe. Pink Opal, Sea Foam (my personal favorite) and Sparkling Silver would make for such fun additions to your makeup bag! I just may be rockin' them well beyond NYE!
So, if you're looking to amp up your New Year's Eve style, start with your makeup first! It's just as much fun to sparkle there as it is to wear sequins!
We were not paid for this post. We did receive samples and it does contain affiliate links.