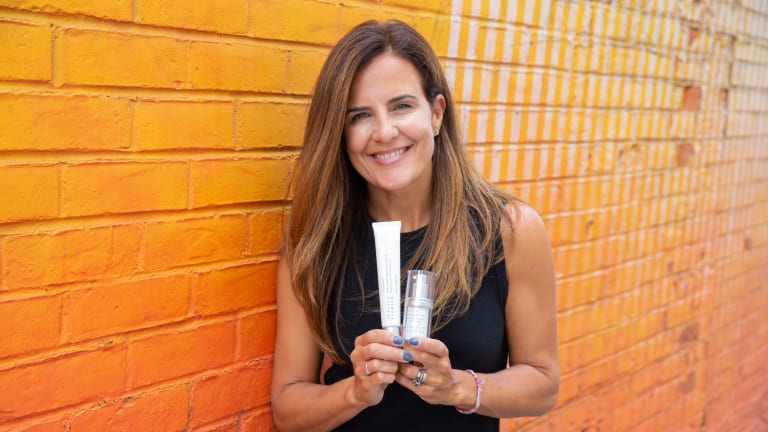 Skincare Solutions for Moms Kerstin Florian
Beauty products to help women age gracefully and confidently
I am proud of my 48 turns around this planet and of how I take care of my mind and body. I'm the first one to preach self care to this community. I think a skincare routine can make you feel like you are in control of the aging process. I've been thrilled to test out these skincare solutions for moms from Kerstin Florian.
Special Momtrends Offer
Use promo code "FALL4KERSTIN" to receive a 20% discount 
Video Review of Kerstin Florian Skincare & Beauty
Check out this comprehensive video I created after testing Kerstin Florian Skincare. 
Kerstin Florian Skincare & Beauty
The brand was started by Swedish-born Kerstin Florian in 1978. They source the highest quality ingredients from around the world to ensure beautiful, effective results. Her idea was that outer beauty is a reflection of inner health. Her belief is that through attended to the full woman, wellness can be achieved. That means tending to nutrition, exercise, mental health and then making time for care of your face and body.
The company is based in California and partners with the finest luxury resorts and destination spas around the world. They focus on sourcing the best ingredients. I'm thrilled that these products are become available to more and more women. Here's how I use them in my beauty routine.
Nightly Skincare Routine with Kerstin Florian
I think of my nightly skincare routine as essential. This sets my skin up for a period of recovery and renewal. These skin products were born from spa wellness. They are easy to integrate into my night and pack a lot of results.
My nighttime routine:
Cleanse: Using the Clarifying Mineral Enzyme Cleanser I get my skin clean gently. 
Tone: The Clarifying Probiotic Mineral Tonic gets any last residue off my face and preps it to receive the serum.
Treat: Every night I use the Clarifying Probiotic Refining Serum to battle the signs of aging.
BONUS Treatment: 1-2x a week I'll add in the Correcting At-Home Professional Peel before I apply a serum.
Daily Skincare Routine with Kerstin Florian
On my recent visit to my dermatologist for a skin cancer screening, I was advised to dump my old moisturizer that has a chemical SPF in favor of a product that is zinc-based. This was right around the time I started testing Kerstin Florian. I was thrilled that the Correcting Multi-Viatmin Day Creme SPF 30 has zinc as the active ingredient.
After I rinse my face with cold water in the morning, I apply this day cream and then dab on the Correcting Brightening Eye Creme under my eyes. I love the visible boost it gives my complexion. On my busiest days, this 1-2 process is all I do before I head off to work or to take my daughter to school.
Beauty Solutions with Kerstin Florian
If I've got a few more minutes in my morning, I add in a few of the Kerstin Florian beauty solutions to my routine. I love the Brightening Concealer. I swipe on a bit under my eyes to add a more youthful glow. The next step is a quick touch of the Luminizing CC Creme. The light formula of this color corrector won't weigh your face down. I want to look like I have next to nothing on my skin and this product achieves that goal.
When it comes to beauty products, less is more. 
Before and After
These beauty products help women age gracefully and confidently. I feel great in my own skin and think Kerstin Florian blends effortlessly into my life. I want my own best skin to shine through.
Find out more www.kerstinflorian.com/customskincare
Use promo code "FALL4KERSTIN" to receive a 20% DISCOUNT!
More beauty from Momtrends
Pin it!
Use pinterest to save your favorite beauty tips.
This Skincare Solutions for Moms Kerstin Florian feature is sponsored