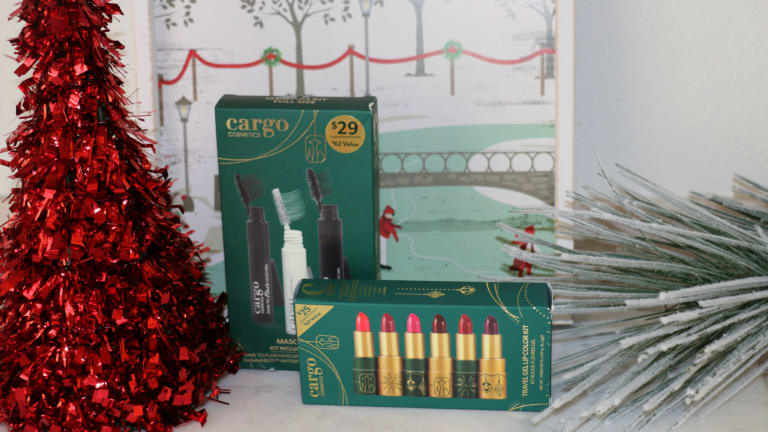 Holiday-Ready Makeup Must Haves
Give the gift of beauty...to yourself!
I bet you've had at least one holiday party already, right? My husband's work party was on Friday night and I'm sure his isn't the only company that's already gotten in on the party action! Let me ask you something? Is your holiday beauty look up to snuff for the rest of the soirees on your calendar? Because you know what? You can rock your normal go-to little black dress and look positively party ready with the right makeup! And what is the right makeup you ask? In this girl's humble opinion it's all about BOLD lips and lashes! And, luckily, I have two holiday-ready makeup must haves from Cargo's Emerald City collection that can elevate your look to holiday party worthy in moments! 
First, let's talk lips...The Cargo Travel Gel Lip Color Kit comes complete with six festive shades and their teeny size make them perfect for those itty bitty clutches we often pair with our party wear. This collection is one of those rare finds in that each and every color is just fabulous! I'm partial to Jamaica as I'm loving the vampy look right now. But you can bet I'll be taking the punchy Barbados out for a spin soon too! And every other color, frankly. What can I say? I'm a tryaholic!

Next up we have lashes...You might want to go with a neutral color on your lids if you're going bold with your lips, but that doesn't mean your lashes can't shine! I'm a big fan of a sandy eyeshadow paired with a bit of liner and large and in charge lashes. The Cargo Cosmetics Mascara Kit comes with three of their best mascaras, Dare to Flair, TexasLash and Swimmables. If you're looking for a bit of curl without having to bust out your eyelash curler, stick with Dare to Flair. If you want major impact, TexasLash is for you. And if you anticipate some happy tears at your party, Swimmables will ensure you don't have black streamers running down your face. Bwah!
Now, these kits are limited edition so make sure you get yours before time runs out! I promise...You'll be holiday party-ready in no time with these holiday-ready makeup must haves! And for more holiday beauty tips and tricks, we shared more holiday-ready finds HERE! 
We were not paid for this post. It does contain affiliate links. Shopping them help us bring you this site!