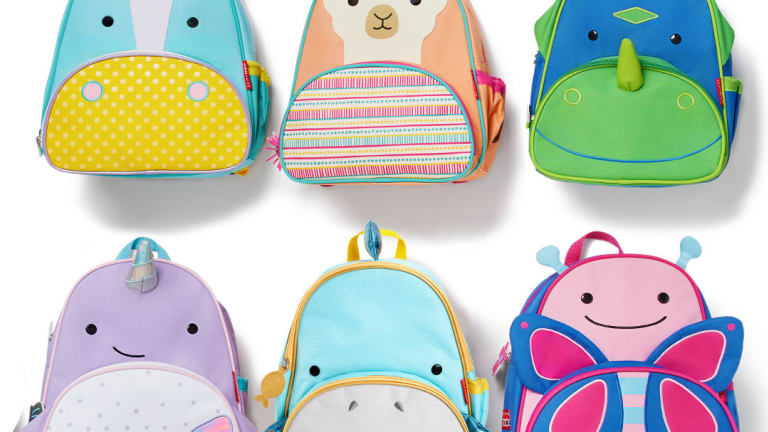 Back to School with Skip Hop Gear
We shared our top back to school gear picks from one of our favorite brands Skip Hop! Send your kids back to school in style!
This year marks another milestone for us~our littlest one is starting preschool! While this back to school brings a pile of nerves for me, my daughter is chatting up school non-stop. and of course, it is all about the gear! I think a certain type of comfort that is offered when a child gets to pick their own lunchbox and backpack. Our little one has certainly grown attached to her little unicorn "friend" as she calls her backpack, lunchbox & matching straw drink bottle. I am happy to send her off to school knowing that she has her little friend, Eureka Unicorn, with her that she can share with her teacher, friends, and other mini classmates.
Skip Hop has the cutest backpacks, lunch boxes and coordinating drink bottles for back to school. Everything in the ZOO collection is not only super fun, but the colors are well thought out and each animal is truly unique and has its own special flare.
My little gaggle of preschoolers were all oohs and aahs as they got to know their new tag-along friends~a perfect way to kick off a new school year.
The Zoo Collection from Skip Hop offers a wide variety of animal friends (25 in all!) that are just too cute to pass up. This year they introduced Riggs Raccoon, and Cody Chameleon to the gang. The Little Kids Backpacks are perfectly sized for preschool children~not overwhelming or heavy packs here. The kids love that the backpacks have two zipper compartments (the front one is insulated and complete with a mesh pocket) to hold all types of finds, treasures and all of the school "must haves". The side pocket adjusts to hold drink bottle, sippy cup or even a juice box.
Skip Hop knows little kids. Not only are the animal backpacks whimsical; they are roomy, durable and take the tugs and pulls of little hands.
Moms love how padded the shoulder straps are, how easily the packs zipper open and closed and of course that all the Skip Hop backpacks are phthalate-free. Bonus? The lining is so easy to clean! The details are incredible and do not go unnoticed by the carriers. The accent tags on the zippers are just too cute and really make each bag special.
Having a matching Skip Hop Zoo Lunchie & Straw Bottle to boot just completes the Back to School readiness. Zoo Lunchies coordinate with the entire line of Zoo Packs. Of course, the friendly animal faces are beloved by all the little ones and the Zoo Lunchies are perfectly sized for little kids and the roomy (and insulated) main compartment holds sandwiches, snacks, drinks and more. The additional mesh pocket is perfect for lunch money, an ice pack or utensils. I love how the top handle clips onto any backpack and of course you can expect all Skip Hop Lunchies to be phthalate free.
The Skip Hop ZOO Straw Bottle is easy for the kids to flip open and of course the adorable ZOO animal of their choice is adorned on the front. The Skip Hop Zoo Straw Bottle gives little ones a "big-kid cup" with the protection of a flip-top lid. Dishwasher-safe; also comes with an extra straw. The bonus velcro strap lets little ones wear it on their wrist, attach it to their Pack or their Lunchie~all promoting a healthy dose of independence.
Skip Hop, a global lifestyle brand known for their well-curated, smartly designed mom, baby, and toddler essentials is gearing you up for back-to-school with all your essentials including Zoopacks, Lunchies, Strawbottles, and more! Now with their own names, pick from your favorite Zoo personalities including Cody Chameleon, Riggs Raccoon, Eureka Unicorn, Blossom Butterfly, and more! Skip Hop is perfect pick for Back to School enabling little ones to bring their animal friends to school without breaking the rules.