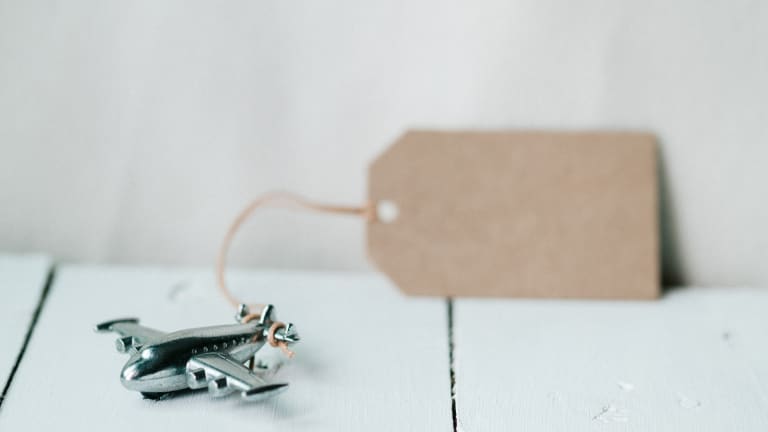 Potty Training Tips for When You Travel
Potty training tips for when you travel and answers for your burning potty training questions
Now that December is here we're gearing up for the holiday travel season. For you that could mean heading to Grandma's for a long weekend or even taking a more extended holiday vacation. If you've been thinking about potty training your little one, the thought of planning a trip right now could be quite stressful...but it doesn't have to be! Thankfully, we had the opportunity to connect with licensed child psychologist, Dr. Heather Wittenberg, author of Let's Get this Potty Started! She shared some of her potty training tips for when you travel as well as answered a few of our burning potty training questions...
Potty Training Tips from Dr. Wittenberg
As a child psychologist who specializes in development, I speak with a lot of parents who worry that their vacation and travel plans will derail their toddler's potty training progress. Throw in the excitement of the holidays, and they're sure potty training will have to wait for a few months. But there's no need to delay! Whether the holidays mean embarking on a road trip to grandma's or a full day of air travel, I'm here to make sure potty training isn't added to your list of holiday stressors.
1. Make a list – and check it twice. Get your toddler excited for your upcoming trip by packing a bag together, including their favorite potty training items. I'd suggest Pull-Ups Training Pants, a spare pair of pants and socks, a travel pack of Pull-Ups Flushable Wipes, a re-sealable zip-top plastic bag that's big enough for wet clothing, and any "must-have" potty props, such as a special potty book or sticker chart.
*Fun characters make for great inspiration too! Just take a look at these darling new Huggies deisgns. I daresay they would delight any little Disney fan! They even come with a built in activity. The inside of the boxes can be colored and decorated with stickers!
2. Be flexible. Even if your little one has reached potty training success and is wearing real underwear, it's okay to use Pull-Ups while traveling. They can really come in handy during lengthy car rides, plane trips or any situation that calls for a little extra security and convenience. Yes, consistency is important during potty training, but so is your sanity – especially during the holidays. Aim to return to the regular program once you return from a trip.
3. Dress your travelin' toddler in easily removable clothing. We know grandma loves to see her grandson in those adorable overalls, and your daughter loves her special holiday tights, but limit these clothes while you're on the road. You'll thank me when you're in a roadside bathroom and can rush to the potty quickly and easily to make it back on the road in no time. There's a reason Santa wears big loose pants!
4. Schedule frequent breaks for potty visits and checks on their Pull-Ups. This actually has double the benefits since yes, your toddler will need a potty break -- but they'll also need some fresh air and an opportunity to stretch those little legs. Plan these stops ahead of time if you can, and you can go on a "potty-seek-and-find" adventure at every stop. Let them know you're sticking to the normal routine, and just adding in some exciting new steps. Give yourself plenty of time so you're not dashing through the snow, or worried about travel delays.
5. Continue your reward system. Whether your child is a sticker chart fanatic or can't get enough jelly beans, your trip doesn't need to impact the incentives that work for them. You could even consider introducing a special travel-only reward for added fun. Small candy canes or chocolate gelt work perfectly this time of year.
MT: How far into the potty training process is it feasible to take a trip?
Dr. Heather: While there's no need to cancel a planned trip or completely avoid travel altogether during potty training, I'd recommend taking a few quick day trips away from home to help you and your little one prepare for longer trips. This will help your child get more potty-savvy away from home before you leave for a longer period of time.
MT: If you just started or you're almost done, is it advisable to travel?
Dr. Heather: You sure can! Just make sure you have realistic expectations – asking toddlers to use a different potty in an unfamiliar setting is a whole new level of potty training, so prepare as much as you can but expect some bumps along the way.
MT: What are some ways you can make your child feel comfortable at his/her home away from home on vacation?
Dr. Heather: My number one recommendation is to be flexible. If your potty trainee has been using underpants, and you want to instead use Pull-Ups while traveling, it's fine to do that. Pull-Ups can really come in handy during lengthy car rides, plane trips or any other situation that calls for a little extra security and convenience that undies provide.
MT: How long can you stay out during the day when you're on vacation during potty training?
Dr. Heather: There's no need to cut your day short because of your potty training toddler. What's most important during these long days is to have everyone use the potty before leaving home and upon arrival to your destination. I'd also recommend scheduling frequent breaks for potty visits and checks on their Pull-Ups. Scope out the restrooms once you get to a new location so then you're ready to whisk your kiddo instantly to the loo if she starts saying, "I need to go potty!" For more tips and tricks on potty training away from home, visit Pull-Ups.com.
MORE PARENTING TIPS FROM MOMTRENDS
PIN IT!
Use Pinterest to save your favorite tips. Be sure to follow our Parenting Tips and Tricks board here.