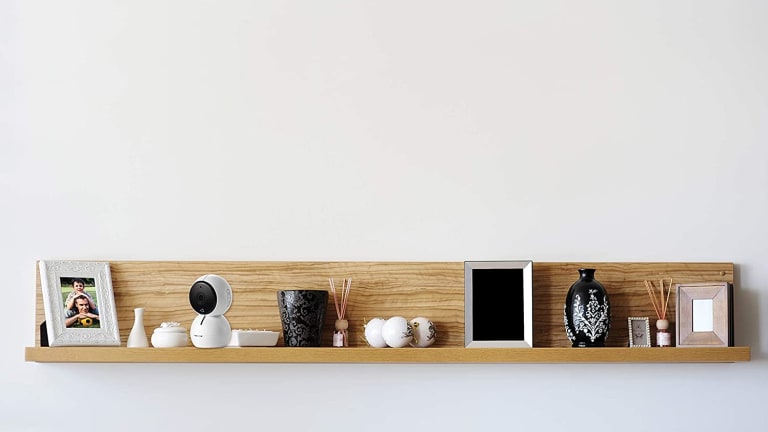 Momtrends MVP'S: Our Favorite Baby Monitors
We shared our top baby monitor picks in our latest Momtrends Baby Gear MVP's list. We have everything from smart baby monitors to budget friendly baby monitor devices and more.
When you're expecting, filling up that baby registry is one of the most exciting things you get to do! Even parents who aren't having their first, use registries, baby shower or not, because of the great nursery completion discounts that exist. It's our job to help you sort out the essentials.
And what is one piece of baby gear that almost everyone has on their baby registry? A baby monitor of course. There are so many different baby monitors out there from smart monitors with all the bells and whistles to much simpler baby monitors. No matter what your parenting style or budget preferences are, there is a baby monitor out there for you.
Which Best Baby Monitor is Best for Your Baby?
Baby monitors are all about peace of mind and any good-quality monitor you choose can give you just that. We're here to help you narrow down your options and figure out which features are most important to you!
You will find that our latest Baby Gear Momtrends MVP'S List is quite wide-ranging. You should be able to find a baby monitor to fit your particular family's needs. Our top picks are sure to please techies, design fanatics and budget watchers alike. So, without further adieu...
Baby Monitors for Every Budget
Best Non-Wifi Baby Monitor
If you're concerned about privacy and aren't comfortable with baby monitors that connect to wifi, an non-wifi baby monitor is the choice for you! And you don't have to sacrifice function for that privacy. This VTech number has a 1000 foot range, a large screen and two-way talk balk intercom so you can talk to your baby and even sign lullabies!
I love the peace of mind the VTech VM5254 with Adaptive Night Light gives parents. We stress about our babies enough, a secure connection shouldn't be yet another stressor. And the soft, soothing night light is a serious bonus! It adapts to the brightness of your baby's room, so it's always the perfect amount of light.
Purchase the VTech VM5254 here.
Best Audio Baby Monitor
Now a video feed might not even be something you want or need. In that case, an audio baby monitor is more than sufficient. And this one comes DECT technology which means no interference! And you can speak to your baby from any room in the house thanks to the talk back feature.
I'm here for the crisp, clear sound this monitor delivers and the the starry light projector is an amazing added feature. Talk about a two for...This one also has a private connection and 1000 foot range!
Purchase the DECT Audio Baby Monitor with Starry Night Projector here.
Baby Monitor with the Best Camera
This is another non-wifi video monitor so if you want phone connectivity, it's best to look elsewhere. BUT if you want security AND an awesome camera, look no further. It is the only ASTM-Certified to be placed within 3 feet of your baby's crib.
I'm all about the functionality of the camera in this video monitor. The quality of the picture is top-notch. Say goodbye to fuzzy feeds and hello to crystal-clear ones! Plus, it has an app that lets you check in on your baby no matter where you are. And did I mention there is a sensor-free breathing monitor?
Purchase the Nanit Pro Camera here.
Best Wearable Baby Monitor
Techies will love this smart baby monitoring system. Mark my words. It's note exactly a bargain option, but this wearable baby monitor is worth its price tag considering how much it does.  
Sure it comes with a camera, but the comfortable fabric sock also tracks your baby's sleep quality. I need one of those for myself, ha! It tracks indictors like heart rate, movement, average oxygen level, wakings etc. And you are notified with lights and sounds if your baby's sleep quality changes. 
Purchase the Owlet Dream Sock here.
Best Baby Monitor Design
I'm not saying you should give up on the features you want from a video monitor in favor of something cute, BUT if you could have both, now that's appealing right? Well, it doesn't get much cuter than the little bird design of this camera! 
And you will love how much this bundles includes. You get a sleep sensor pad, camera with stand, floor base, crib attachment and a mobile stand. I love how the safety detection feature in this high tech monitor watches for your baby's breathing motion, his or her face being covered, rolling over, crying and more!
Purchase the Cubo Ai here.
Best Split Screen Baby Monitor
If you have more than one child, a split screen monitor is a game-changer. It allows you to monitor both of your kids with one device which cuts down on cost and gear. Why buy two monitors when you don't have to? It's great for twins too if you want to monitor babies who are side by side. 
This Vava Baby Monitor with Split screen has many of our favorite features like it's wireless, has a long 900 foot range, a super clear video feed, full angle video mode, automatic night mode and so much more! 
What I like best about this monitor is knowing that I can keep an eye on two kids at one time without sacrificing feed quality!
Purchase the Vava Baby Monitor with Split Screen here.
Best Small Scale Baby Monitor
If unassuming describes your sense of style, you're going to love this smart baby camera that comes in at under $150. The Lollipop is super small and can be attached wherever you want. You can attach it to the crib, the wall or even stand it up. And you can even get the matching sensor that plugs in, and practically disappears, to monitor temperature, humidity and air quality.
My favorite feature is that you can play white noise. When my son was a baby a white nose machine saved our sleep. I love that you get both a camera that can recognize true crying from other types of noise and soothing sounds with this device!
Get the Lollipop Baby Camera here.
Best Budget Baby Monitor
Sometimes you don't need all the bells and whistles, but you want at least a few bwah. Maybe you're the kind of person who simply wants a baby monitor that will work but won't break the bank. The Hatch Rest+ delivers useful features like a solid audio monitoring feed, and extras like a sound machine, customizable night light, sleep programs and more.
I love how easy it is to set up this Hatch Rest+ monitor and sound machine. We didn't set up our first baby's monitor in advance and it would have been so helpful to have one that didn't come with a novel's worth of instructions. Sleep-deprived parents need EASY to use products. Am I right?!
Purchase the Hatch Rest+ here.
So, have you seen enough baby monitors yet? Haha! I know there are a lot of choices here, but just think about what your true wants and needs are and you'll be able to make your final selection from this list no problem!
Stay tuned for our next Baby Momtrends MVPs list…
More of Our Favorite Baby Gear
For More Momtrends MVP's Winners, Follow the Links Below:
Pin It!
Save your favorite baby gear and ideas on Pinterest and follow along with our Gear for Baby and Kid board!
How We Pick Our Winners
Momtrends MVP's is a non-sponsored series. Brands must meet our strict standards to be included. When naming winners we take several factors into account, including expense, convenience, and style.
We make our picks annually based on editors' research. In some instances, we may request and receive samples so that we can more thoroughly assess products. Our opinions are our own, and our goal is to help our community of moms make more informed decisions on everything from baby gear to beauty products to vacation destinations and more. We scour the abundant options and painstakingly hand-pick our favorites, so you don't have to. Our hope is that our most valuable players become your most valued purchases.
This is not a sponsored post. It does contain Amazon Affiliate links.