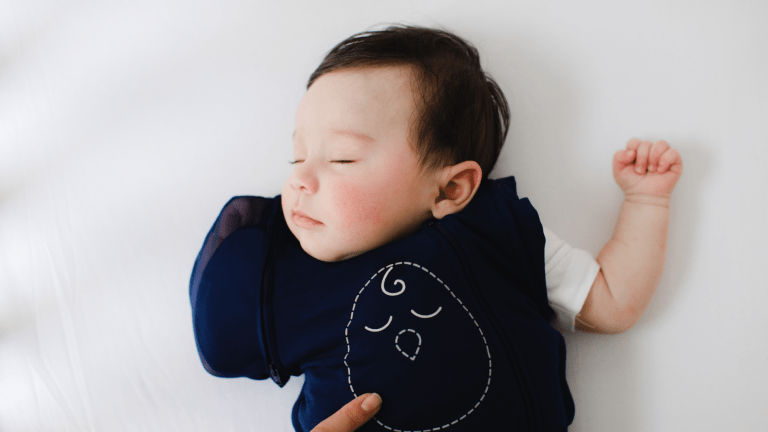 Must-Have Swaddles For Your Baby
Nested Bean makes gently weighted swaddles and sleep sacks designed to comfort baby and promote longer sleep, so everyone in the family sleeps better!
Swaddles are a must-have for every newborn baby. Both of my kids were huge fans of the swaddle and I found that it definitely did help calm them. I'm hoping all new moms and moms-to-be learn about the magic of the swaddle and what makes Nested Bean so great!
Special offer: Use code MOMTRENDS for 10% off full priced items on nestedbean.com 
Must-Have Swaddles For Your Baby
For generations, moms have been passing along the swaddle sleep secret. When a baby feels secure, he/she is going to sleep sounder and longer. Swaddles are meant to mimic that cozy feeling inside the womb. Swaddling is very important in the newborn stage because it contains baby's arms to minimize the Moro-reflex, or startle reflex, which is the cause of many middle of the night wake-ups.
Nested Bean is on a mission to provide families with sleep wellness products to help their babies fall asleep faster and stay asleep longer. Today, we're sharing two of their gently weighted sleepwear products with you.
Zen ONE™ Swaddle
Newborns love nothing more than falling asleep in their parents' arms. The lightly weighted Zen One Swaddle mimics that feeling, so babies are soothed into peaceful, uninterrupted sleep. And when baby sleeps well, everyone in the family can, too. Nested Bean's Zen Sleepwear™ is weighted in key areas and thoughtfully designed to help promote a more restful & restorative night's sleep for baby and parent. 
The Nested Bean Zen One Swaddle contains lightly weighted Cuddle Pads™, almost like little bean bags, that apply gentle pressure on your baby's chest and sides for the comfort and security of being held. The Zen One Swaddle combines the benefits of swaddling and touch to provide a safe, secure environment for your baby. They're made from the best and softest fabrics for your baby's tender skin, and are washer and dryer safe.
Features of The Zen One Swaddle
Gently weighted Cuddle Pads on the chest and sides mimic the comforting embrace of parents and combines benefits of touch and swaddling.
Inner secure band for arms in sleeping.
Removable mesh sleeves to aid self-soothing.
2-way zipper for easy diaper changes.
Zen Sack
When rolling starts, swaddling stops. The lightly weighted Zen Sack mimics the security of your touch, so babies are soothed during this transition period into peaceful, uninterrupted sleep. The Zen Sack calms babies with gentle weight on the chest for the same secure cuddling feel of the swaddle, in a design suited for arms free sleeping.
Features of The Zen Sack
Gently weighted Cuddle Pad™ on the chest mimics a parent's comforting touch to improve sleep.
Teaches self-soothing and eases transitions.
Durable two-way zipper opens flat for easy in-and-out and quick diaper changes.
Adjustable shoulder snaps grow with baby.
Win it!
Momtrends is teaming up to give away a pair of Nested Bean products. The winner will receive a classic Zen Sack and Zen One Swaddle (value $64.98). Use Rafflecopter to enter below.
More about Nested Bean
The company was founded in 2011 by Manasi Gangan, a working mother of two who was researching ways to solve her newborn's sleep problem— unable to sleep unless she was holding him. With the goal of helping her son as well as millions of other families, Manasi's research led her to discover that simulating touch through a lightly-weighted object can have the same soothing benefits as holding a child.
From there, Nested Bean's Zen Sleepwear™ line was born, providing innovative sleepwear for babies and toddlers ages 0-24 months that mimics a parent's soothing touch to help babies fall asleep faster and stay asleep longer. 
Nested Bean's products empower parents to help babies sleep better and families thrive.
Nested Bean is available online at Nestedbean.com and also at Target, Amazon and BuyBuyBaby.
Use code MOMTRENDS for 10% off full priced items on nestedbean.com
This is a sponsored post.