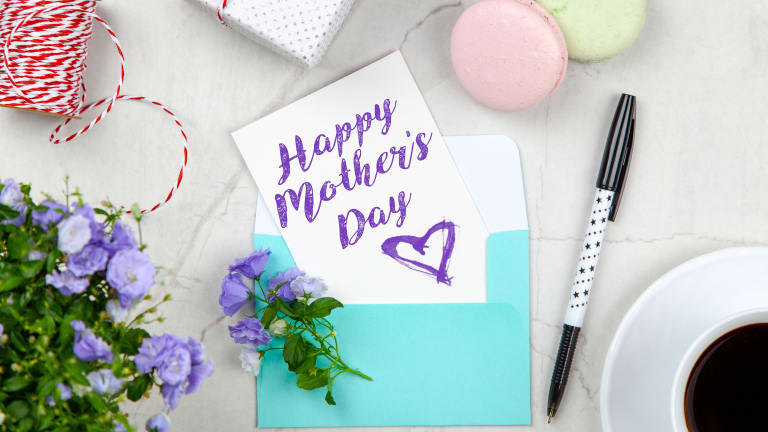 Mother's Day Gifts for the New Mom
The way I see it, Mother's Day gifts for new moms should fall into at least one of three categories: Practical, luxurious and/or sentimental.
You know what I want for Mother's Day this year? (Besides a full-day spa trip, solo hotel stay, and uninterrupted session of Netflix binge-watching?) What I really want is a new smartphone with a better camera. I know, I know--how unoriginal! But here's the thing: I use my camera phone daily. It's how I document my life—it's how I capture moments with my family. Instagram has become something of an on-the-go parenting journal for me, and I rely on my old, outdated, and cracked iPhone. Every. Single. Day.
Related: Mother's Day breakfast in bed
1. Asha Patel Mum's the Word Necklace, $85/ 2. Minted Moments Planner, $16/ 3. Noodle & Boo Skincare Products, $8 - $28 / 4. Vino 2 Go Tumbler, $15/ 5. Weestructed Mug, $20/ 6. Mom's One Line a Day Journal, $17 / 7. Aden & Anais Makana Bamboo Daydream Blanket, $150/ 8. Chewbeads Hudson Teething Necklace, $37/ 9. Y. Collection Candle, $ 39/ 10. 60-Minute at-Home Zeel Massage, $198
The way I see it, Mother's Day gifts for new moms should fall into at least one of three categories: Practical (like a smartphone), luxurious (like a professional at-home massage), and/or sentimental (like a framed photograph).
Last year, my husband opted for "heartwarming," and made me a photo book with adorable images of my growing family. It was lovely and touching, and I admit I shed a tear. Playing to a mom's soft side on Mother's Day, is foolproof—as is giving her something indulgent and pampering. As for going the practical route: What busy new mom wouldn't appreciate something that makes her life a little easier?
From the sweet and sappy to the humorous and useful to the exquisite and extravagant, these gifts are perfect for the new mom. I want all 10... But I'll settle for an iPhone 6.
FYI, this Aden & Anais Bamboo Daydream blanket is dreamy. It's what I imagine sleeping in a cloud must feel like... It's so deliciously comfortable, I asked my husband to swaddle me in it like a baby... (But that's another photo for another day.)
MORE MOTHER'S DAY INSPIRATION
PIN IT!
Save your favorite ideas to Pinterest. Be Sure to follow our Mother's Day board here.
Momtrends was not paid for this post. We were given samples for review. This post may contain affiliate links. By clicking and shopping, you help support Momtrends and allow us to keep reporting on trends.