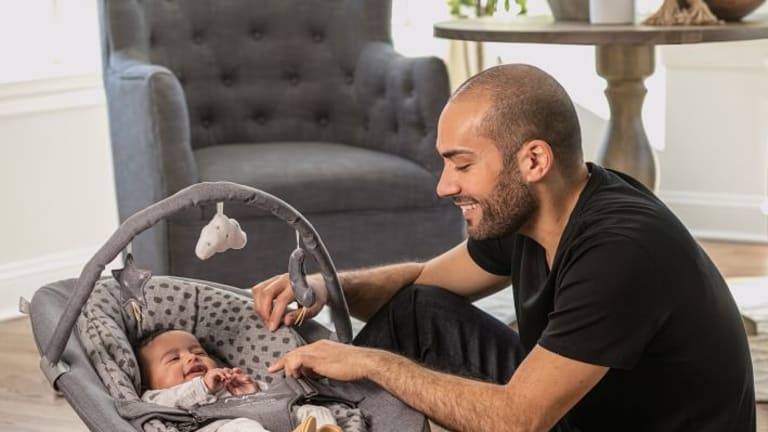 Momtrends MVP'S: Bouncers, Baby Swings and Activity Centers
Bouncers, baby swings, and activity centers are must-have pieces of baby gear in our book…Read on to see which ones are the best!
When you have a baby at home, as much as you love to hold and snuggle them, there are plenty of times throughout the day when you simply need a break for a moment or two.
That break could be to do the dishes, drink a cup of coffee, chat with your bestie, sneak in some work on your laptop, or any number of reasons.
Sometimes you just need a safe place to rest your little one that isn't their crib. If they don't want to rest, putting them in the crib could elicit unnecessary crying.
Must-Have Baby Gear
And there are also times when you need a little extra help soothing your baby too. A baby swing, bouncer, or even an activity center could help in both areas!
I actually had all three pieces of baby gear for both my children and they were such life-savers, especially when I needed to take a shower! I would just put their little seat next to the shower so they could be in the bathroom with me, but I digress…
My son continued to try to sit in his bouncer long past the time he should have. We had to hide it. Haha!
So, whether you need a spot to safely stow your baby while you get some chores down or you want your gear to go a step further and entertain them, we have something for you in this latest baby gear edition of Momtrends MVP's!
Do you need a Baby Swing or Bouncer?
So, which one do you need, a baby swing or bouncer? From my own parenting experience, I would say you need both a baby swing and a bouncer because they serve different purposes.
My son would happily swing in in his baby swing for ages and it often helped him get to sleep when he had trouble napping, while my daughter topped out at like ten minutes, but sometimes I needed those ten minutes you know? So, that made the swing very valuable for me.
My daughter was the kind of baby who wanted to be held ALL the time, so anything that helped give me a break when the hubs was at work was clutch!
And as far as bouncers go, they both really enjoyed their bouncers and I loved that I could pick it up and take them, wherever I was in the house, like the bathroom I mentioned before.
On that note, let's talk about the best bouncers, baby swings, and activity centers!
The Best Minimalist Bouncer
If you want a soothing bouncer, minimalist bouncer that moves naturally with your baby's movements, the Bouncer Balance Soft is for you. There are no batteries required!
This bouncer has been a long-time Momtrends must-have for good reason. Its simple, yet effective ergonomic design stands the test of time. 
It's made from soft cotton and jersey fabrics along with airy mesh to give your baby a comfortable experience. And it was designed with medical experts so baby's neck, head, and back are property supported!
I love all the features of the Bouncer Balance Soft, but my favorite part is how lightweight it is making it super portable! Remember what I said about the shower. Haha!
BabyBjorn Bouncer Balance Soft
The Best Luxury Bouncer
Remember when I said that my son tried to sit in his baby bouncer way past when he should have? Well, the Nuna Leaf Grow bouncer actually grows with your child which to me justifies the price tag because you can use it so much longer!
It will transition with your kiddo from the baby stage all the way through the big-kid stage and provide soothing motor-free side-to-side motion and three different recline positions!
Obviously, my favorite part about the Nuna Leaf Grow is how it grows with your baby, but I also love that you can lock it into position so you can use it for feeding. It's wonderfully versatile!
The Best 2-In-1 Bouncer and Rocker
If you want a more budget-friendly bouncer that gives you some versatility too, look no further than the Summer 2-In-1 Bouncer & Rocker Duo.
As you can tell from the name this under $60 piece of baby gear functions as both a bouncer AND a rocker. So, your baby gets the soothing vibration plus which every time of motion they prefer.
I also love how portable the Summer 2-In-1 Bouncer & Rocker Duo is! It folds flat so you can easily take it on the go!
Summer 2-In-1 Bouncer & Rocker Duo
Buy it on Amazon here (note this is an Amazon Affiliate link)
The Best Two-Position Baby Swing
Some baby swings that vibrate, much like many bouncers do. This is not one of those. And while vibration is a feature you don't get, the different positions your baby can swing in more than make up for it.
That's right. Baby can swing two ways, either side-to-side or head-to-toe. And you can really customize their experience with six different swing speeds and 16 songs and nature sounds.
I so appreciate that you can change the swing position in the Snugapuppy swing because I had both a baby who responded to regularity and one who responded to regularity and one who was soothed when I introduced new things!
Fisher-Price Sweet Snugapuppy Dreams Cradle 'N Swing
Buy it on Amazon here (note this is an Amazon Affiliate link)
The Best Luxury Baby Swing
The mamaRoo 4 Multi-Motion Baby Swing is less like a traditional swing and moves more in the motion that you do when soothing your baby. Those motions include 5 unique movements and 5 different speeds
So, while there aren't as many built-in sounds like some other swings, there are 4, plus you can connect it to your MP3 device.
I love how low profile it is. Not only is this mamaRoo swing the ultimate soother, but its sleek design doesn't take up much space and looks great in your home!
mamaRoo 4 Multi-Motion Baby Swing
Buy it on Amazon here (note this is an Amazon Affiliate link)
The Best Portable Baby Swing
This is another one of those baby products that serves multiple purposes which I know we all love! You can use the Graco Soothe 'n Sway swing or take out the removable bouncer and use it that way.
It is difficult to move larger swings from room to room, but this one transports with ease. One day you can have it in your family room, another day it could be in the bedroom, your choice!
And the Graco Soothe 'n Sway doesn't skimp on the features. It vibrates and offers multiple speeds, positions etc. But the portability is my favorite part. I could really have used that when my kids were babies!
Graco Soothe 'n Sway LX Swing with Portable Bouncer
The Best Smart Activity Center
It seems like there is a smart version of everything these days and activity centers are no different. Just like a swing or bouncer, an activity center will keep your baby contained, and with the Evenflo Jam Session Activity Center you get smart features too.
If you need to up the entertainment factor in your baby gear collection, activity centers help. They can jump, reach and stretch their little bodies all while interacting with electronic smart toys that play music.

Now as much as I think the Jam Session Jumping Activity Center smart toys are cool, I also like that there is an off switch so if quieter play is what you need, that is an option too!
Evenflo Jam Session Jumping Activity Center
Buy it on Amazon here. (note this is an Amazon Affiliate link)
The Best Portable Activity Center
I am sure you noticed that there is a portability theme going on here. That is because as a parent, I found, and still do, portable products so useful! I was always taking my kids to their grandparents' house or to playdates so I needed baby gear I could take with me!
You can definitely take the Oribel PortaPlay Convertible Activity Center from room to room with you or when you leave the house. And it comes with several learning toys that your baby can play with as they bounce away!
The Oribel PortaPlay also folds flat which I love. Trunk space is precious my friends! Plus, you can convert it to a play table later. How cool is that?!
Oribel PortaPlay Convertible Activity Center
Buy it on Amazon here. (note this is an Amazon Affiliate link)
Well, I think that should be enough to get you started on your next baby gear purchase. Whether you want a baby bouncer, baby swing or activity center, you should be able to find one that's right for your baby here!
And don't forget to stay tuned for our next Baby Momtrends MVP's list…
For Even More of Our Favorite Momtrends MVP's Winners, Follow the Links Below:
Pin It!
Don't forget to save your fave baby gear and ideas on Pinterest and follow along with our Gear for baby and kid board!
Momtrends MVP's is a non-sponsored series. Brands must meet our strict standards to be included. When naming winners we take several factors into account, including expense, convenience, and style.
We make our picks annually based on editors' research. In some instances, we may request and receive samples so that we can more thoroughly assess products. Our opinions are our own, and our goal is to help our community of moms make more informed decisions on everything from baby gear to beauty products to vacation destinations and more. We scour the abundant options and painstakingly hand-pick our favorites, so you don't have to. Our hope is that our most valuable players become your most valued purchases.