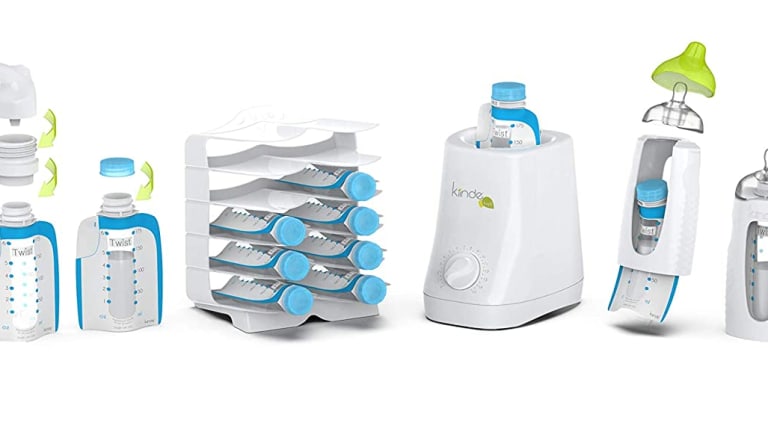 Publish date:
Kiinde Feeding System For Nursing Moms
Moms can pump, store, organize, warm, and feed using the same pouch making feeding time a breeze.
Moms can pump, store, organize, warm, and feed using the same pouch making feeding time a breeze.
I am a nursing mother and have to say, pumping is my least favorite thing to do. The washing of the pump accessories, then storing the milk in the bag, then defrosting it when the baby is ready to feed is quite time consuming for us moms. Now we can pump, store, organize, warm, and feed using the same pouch! How brilliant!
A revolutionary feeding system
I recently discovered a new way to help with the pumping issue called the Kiinde Twist. The Kiinde Twist is a revolutionary feeding system that allows you to directly pump from any pump into breastmilk storage pouches with leak-proof, twist-locking caps. You can then label, organize, store, warm, and feed from that same pouch without ever having to transfer precious breast milk from bottles to bags.
How the Kiinde System Works
The Kiinde Twist system completely eliminates the need to transfer precious milk from bottles to bags and back again! The pouches combine the toughness and leak-proof guarantee of a bottle with the cost-effectiveness, compact size, and convenience of a disposable breastmilk storage bag. The keeper helps you organize your freezer and efficiently store and protect your precious breastmilk by holding storage bags flat, on easy-to-access shelves.
Kiinde understands that your life is too busy for you to stand around waiting for a meal to be ready so they created the Kozii. The Kozii uses a low temperature, nutrient-safe water bath that is safe for all bottle and bag types. The water in the warmer is about as warm as warm tap water. This allows you to warm your little one's meal without exposing bags and bottles to dangerous steam, hot or boiling water, or the microwave. You also feed directly from Kiinde twist pouches, completely eliminating the need to transfer milk from bottles to bags and back again!

Five Tips To For a Girl's First Leg Shave
Do you remember your first time shaving? Mine wasn't pretty. I snuck my dad's razor and shaved my legs dry. It wasn't pretty. Get your daughter ready for this rite of passage with the right tools and a quick education. We've got five tips to help you navigate your daughter's ...read more
Why You Should Add Wild Blueberries to Your Diet
Do your New Year's goals involve healthier eating? Adding more fruits and vegetables to your diet? Or even adding tasty new recipes to your repertoire? We've got five reasons for you to add wild blueberries to your diet. Our friends from the Wild Blueberry Association have ...read more
Why Moms are Loving This Blueberry Couscous Salad
It's blueberry picking time. And while most blueberry recipes revolve around baked goods, we've got something different to share. First, a few sentences singing the praises of this lovely fruit. Blueberries are high in antioxidants, improve memory function and reduce the effects ...read more
The Design difference
The active-Latch nipples pop directly into twist pouches, eliminating the need to transfer milk from bags to bottles, eliminating dirty dishes, and completely eliminating gas from your baby's meal. The active-latch nipples are designed to teach and reward deep, wide, natural latching. By requiring suction and massaging of the nipple, they discourage "lazy latching", and help to ease the transition between bottle and breast.
Get the Kiinde system on Amazon here.
More of Our Favorite Baby Gear
PIN IT!
Be sure to save your favorite gear for baby on Pinterest. Please follow our Gear for baby and kid board here.
Momtrends was not paid for this post.