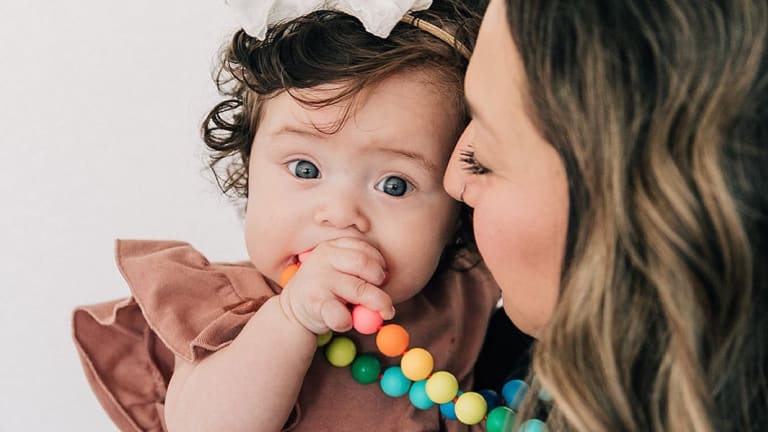 Chewbeads: Fashionable and Non-Toxic Jewelry for Moms
Moms deserve to wear great accessories and keep their babies safe.
Chewbeads is genius. They have stylishly solved a problem for moms. My mom has a great story she'll share with you. It's about how I ruined her life by pulling a hoop earring out of her ear and ripping her earring hole. I love that story. Not. Moms deserve to wear great accessories and keep their babies safe. That's where Chewbeads come in.
Related: The best gear for feeding baby
Visit the Chewbeads store on Amazon here. (note this is an Amazonn Affiliate link)
It's no secret that babies love jewelry. It's their go-to grabby thing while you're holding them, breastfeeding them, picking them up out of the crib, sitting next to them, cuddling them. I know a lot of women, myself included, who just stopped wearing jewelry altogether when the roving hands of their little ones found the bling. Not only could it end up hurting you (Exhibit A: my mom's earring hole), but more importantly the jewelry could have small parts that break apart with each little chomp or be covered in something that isn't exactly healthy (think lead, chemicals, etc).
Lisa Paige came up with Chewbeads, a fashionable jewelry for chic moms who don't want to give up their accessories. She created soft, non-toxic jewelry that's colorful, chic and, above all else safe. We love the bold bright colors of this Perry Chewbeads Teething necklace. Chic isn't it?
Chewbeads have been thoroughly tested by a global CPSC accredited laboratory to assure they won't break apart or detach in a baby's mouth. And when you look at them, they really do look like plastic or resin beads. But they're actually made of 100% silicone, similar to pacifiers and nipples. They're free of everything--BPA, PVC, phthalates, cadmium or lead. They also have a breakaway clasp for safety, because nothing says bonding better than a child who's strangling his/her mommy with a fashionable necklace.
So although I can't vouch for your ear holes, I can now safely say you can hang onto your accessories. Because with Chewbeads, your babies can also hang onto them. 
FOR EVEN MORE MOMTRENDS MVP'S WINNERS, FOLLOW THE LINKS BELOW:
PIN IT!
Save your favorite baby gear on Pinterest and follow along with our Gear for baby and kid board!
Momtrends was not paid for this post. We did receive samples for review purposes.