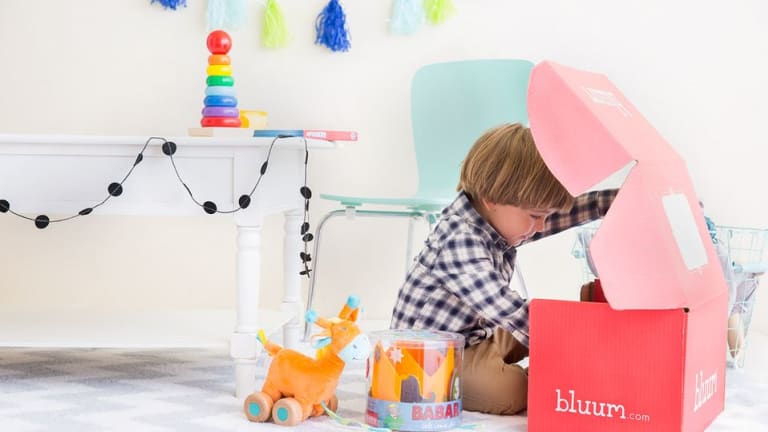 Publish date:
Bluum Box Subscription Box For Baby  and Mom
Looking for a unique gift for an upcoming baby shower or to celebrate a new mom? We're loving love these boxes from Bluum, Inc., a monthly subscription box that includes goodies for baby and mom. They make a great gift for moms or moms-to-be.
Related: Best monthly subscriptions for toddlers and babies
Who Needs Bluum Box?
Geared for pregnant moms-to-be up to parents of 4-year-olds, the Bluum Box arrives every month packed with 4-6 new, full-sized goodies like toys, snack, skincare products, books and apparel customized to your child's development, age and gender. 
Got a baby who has mastered grabbing or crawling? Log in to your Bluum account to check off milestones she's met so your next box can be updated based on your child's most recent abilities. We love that they also include goodies for mom too! We like surprises too!
This box will save you so much time and effort matching the right goodies to your child.
What's in a Bluum Box Subscription
Bluum boxes comes in 4 different in developmental levels:

The Ten Best Wooden Play Kitchens For Kids
Cooking is a timeless fascination for children. This type of play goes beyond gender and teaches kids loads of life skills along the way. An investment in a play kitchen is money well spent, as it can provide hours of entertainment. We've rounded up the ten best wooden play ...read more
New Victory Announces a New Season of Shows
We know you're busy planning picnics and summer outings, but we wanted to let you know that The New Victory just announced their new season and it looks fantastic. We thought you'd like a sneak peek of what's in store! Each year the New Vic theater brings culture to tourists and ...read more
Fun Ways to Discover Venice Italy with Your Family
Greetings from Italy wear the gelato is rich, the clothes divine and the scenery is inspiring. Now that I've been to this fine city in the north of Italy, twice, I've amassed a list of favorites to share. These are some fun ways to discover Venice, Italy with your family. ...read more
bluum pregnancy (for expecting moms)
bluum baby (newborn up to 12 months)
bluum toddler (13 months and up).
Preschool box available for bluum kids up to 4 years old
These would make the perfect baby shower gift for an out-of-town friend or a way to show that you're thinking about a mom-to-be. Boxes are as low as $20.99 a month and can be bought as a one-time gift or sent as a monthly subscription. (On your first time to the site, you'll be offered 50% off your first month too!) Click over to try a Bluum box today!
More of our Favorite Picks for Moms
For even more Momtrends, follow us on Facebook, Twitter, YouTube, Pinterest and Instagram!
This is not a sponsored post.