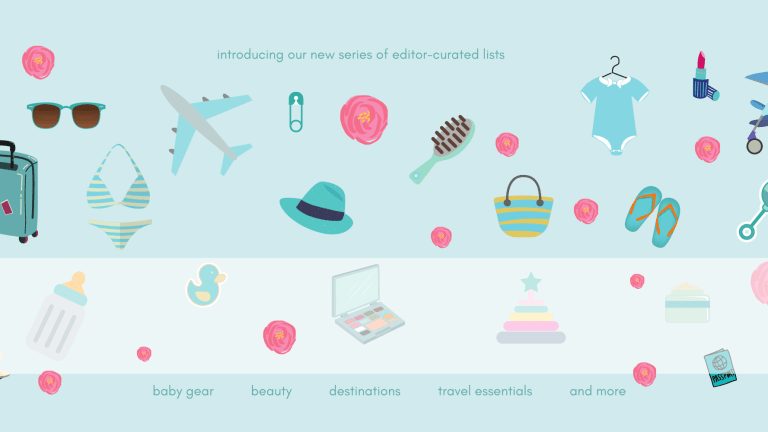 Momtrends MVP's: Best Double Strollers
We've done the browsing for you, and we're sharing the 8 most valuable players
Introducing our brand new series, Momtrends MVP's. We're sharing our top eight to 10 picks across multiple categories--from car seats to strollers to sunscreens to red lipsticks to travel destinations--to help you make better decisions and smarter purchases.
First up: double strollers. 
We have extensively shopped the options, and curated our favorites.  But not all double strollers are created equal which is why we've picked options for all sorts of varying wants and needs.
If you've been blessed with a set of buns in the oven, you'll need a stroller that can accommodate two teeny tiny snuggle bugs. A common misconception among new parents is that any double stroller will do the job for twins, but, believe it or not, many  double strollers aren't designed to accommodate two infants, meaning they are able to accept two infant car seats, two bassinets, or that both seats recline fully flat. 
On the other hand, if you have a toddler, and soon will have a newbie joining your family, your double stroller browsing will look totally different. You'll want something to accommodate your growing big boy or gal and your addition.
Feeling overwhelmed already? We have got you covered. 
Happy shopping and strolling x2!
Best Overall Double Stroller: The Baby Jogger City Mini 2 Double 
This Baby Jogger City Mini 2 double stroller is equal parts nimble and nifty with its signature in-seat fold (only one-hand needed!) and it's easy maneuverability. It features adjustable calf supports and a dual-sided near-flat recline that offer comfort for two on the go. An extra-large storage basket and UV50 canopies with peek-a-boo windows provide you ultimate convenience--whether you're traveling with city minis or suburban cutie pies. You can customize with one or two bassinets, and use as the ultimate travel system; it's compatible with multiple car seat brands. $499.99.
Best Disney World-Approved Double Stroller: Graco RoomFor2 Stroller
If you have an older toddler, eh hem, little kid, who's too cool to ride in a stroller seat, but too "tiiiiiiiired" to walk with their own capable legs, consider this affordable and efficient RoomFor2 option from Graco. Your wee one can lounge comfortably in a reclining seat that goes completely flat while your big baby ether stands and rides on a platform or rests her tush on a padded seat. Each seat can support up to 50 lbs. The Roomfor2 works the same way with a compatible with the a car seat attached, and is compatible with the Graco SnugRide Classic Connect and The Click Connect infant car seats. This is a great "Disney stroller" as it meets size requirements, and can offer older children a place to rest between rides and attractions. Best of all, at $149, this double stroller won't set you back too much. 
Bests Errand-Running Stroller: Baby Trend Snap-N-Go Double
The most affordable and convenient way to stroll with twin bundles is with a Baby Trend Snap-N-Go Double. It allows you to "snap" in your infant car seats so you don't have to transfer them from the car to the stroller. While it doesn't have all the frills of a traditional stroller, the Snap-N-Go frame comes with an extra big underseat basket and a parent tray with two cup holders. The frame is compatible with most major car seat brands and is inexpensive ($99). Of course, it can't be used once your twins get too old or big for their infant car seats. But we think it's worth the spend for the first few months of on-the-go errand-running efficiency. 
Best Wagon/ Double Stroller for Adventures: Veer Cruiser
I may have mentioned my love for the Veer once or twice (or 10 times) on Momtrends.  I don't want to sound impartial as an editor/MVP's judge, but, of all the gear in my vast collection, this incredibly versatile piece of equipment gets the most mileage in our house and the most praise from onlookers and admirers. We use it for leisurely strolls, grocery shopping, beach trips, and parading through our neighborhood.  It can be pushed like a traditional stroller, pulled like a wagon, and it maneuvers like a dream. What's more amazing is all the customization options. It fits two babies/small children; you can attach a car seat, one or two comfort seats with five-point harnesses (good for toddlers and babies 6 months+), two canopies and visors for shade, and there's even a bassinet insert for newborns. The wagon alone costs $599 with accessories sold separately. It's not exactly inexpensive, but there's nothing quite like it.
Best Jogging Double Stroller: BOB Gear Revolution Flex 3.0 Duallie
Mountain-bike style suspension keeps you pacing smoothly in your Revolution Flex 3.0 Duallie jogging stroller whether you're on flat street or hiking a trail with two sleeping kiddos in tow; shocks ensure they'll feel less bumps and turbulence, while a lightweight frame keeps you agile and quick.. Ten nifty storage pockets offer more-than adequate room for gear--so this is a great option for 5K runs and family adventures alike. BOB has established itself as a leader in jogging strollers, and you will pay for the name; this piece of exercise equipment (because ,really, that's what it is) costs $700.
Best Lightweight Umbrella Double Stroller: Joovy TwinGroove Ultralight Double Stroller
If you don't want to spend a small fortune on a double stroller, but still need to get around easily with two active young kiddos, consider this no-frills option. The Joovy TwinGroove Ultralight Double Stroller is it's affordable, convenient, and easy to schlep around. (In fact, schlep gives the wrong impression; this 26 lb stroller can be lifted, hauled, and moved without fuss--which is essential whether you're juggling twins or a newborn and a toddler. And at $220 it's a good go-to on-the-go don't-break-the-bank piece of must-have gear.
Best Space-Saving Double Stroller: The Twin+ Luxe (Zoe XL2)
With an ultra-luxe fabric, leather accents, and large moisture wicking UPF 50+ canopy, this lightweight (19.5 lbs) stroller is convenient for everyday use or travel. And those living in small spaces without a lot of storage room need not worry; the Twin+ Luxe (Zoe XL2) has a compact fold that makes it a smart option for apartment living. What's more, this expandable stroller grows with your family thanks to its patented tandem design and can expand from a double to a triple or quad with an add-on seat.
Best Tandem Stroller: Nuna Demi Grow
The sleek and forward stroller begins as a single stroller, but has the ability to expand to a double or twin stroller. It's intuitive and maneuvers like a dream. You can easily fold, flip the seat, and switch to a bassinet or travel system.
Stay tuned for our next Baby Gear Momtrends MVPs -- we'll be sharing our favorite baby carriers next!
Momtrends MVP's is a non-sponsored series. Brands must meet our strict standards to be included. When naming winners we take several factors into account, including expense, convenience, and style.
We make our picks annually based on editors' research. In some instances, we may request and receive samples so that we can more thoroughly assess products. Our opinions are our own, and our goal is to help our community of moms make more informed decisions on everything from baby gear to beauty products to vacation destinations and more. We scour the abundant options and painstakingly hand-pick our favorites, so you don't have to. Our hope is that our most valuable players become your most valued purchases. 
MORE MOMTRENDS FOR NEW PARENTS
PIN IT!
Use pinterest to save your favorite gear for baby. Be sure to follow our Baby Things to love board here.