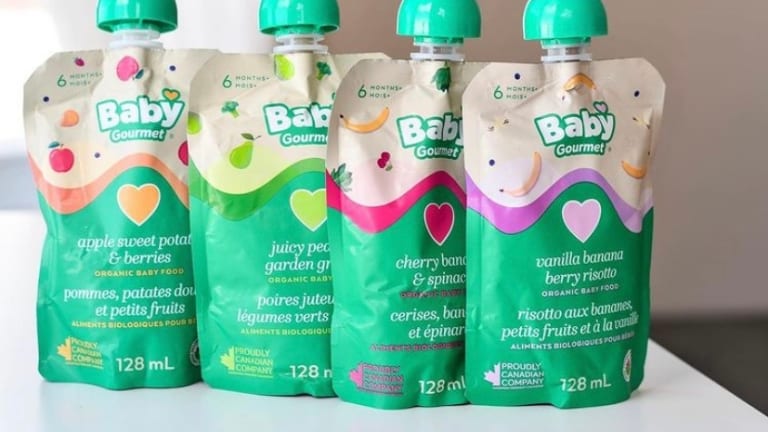 Publish date:
Baby Gourmet: Baby Food Made by Moms
Canada's leading brand of delicious organic meals and snacks that babies love and parents can feel good about.
Now that my daughter is starting to eat solid, well mashed food, I have been making homemade baby food for her. Just like I did with my first daughter, I am trying to stick to organic fruits and vegetables where I boil, mash and puree the food. With two kids, though, it can be difficult to have baby food ready all of the time - especially various food combinations - so I have also been using organic baby food pouches like Baby Gourmet, a product that is made by moms.
Related: The best diaper pails and accessories
Featuring a line of healthy, organic, and nutritious food for babies (6-12mo), the line began in owners, Jen's and Jill's kitchens, so each recipe and batch is taste-tested and poured out if it's not absolutely loved. The line also does not contain any sugar or salt, it is gluten-free, nut-free, kosher and it has no fillers.
I had the chance to test out the Juicy Pear and Garden Green puree and I really loved how this formula included organic pear, organic broccoli, organic spinach and lemon juice. This delicious combination was a great way to combine sweet fruits with vegetables that my baby needs. She loved this combination and went through the whole pouch in a day! My growing baby also tried the Orchard Apple, Carrot and Prune, which I really appreciated because I find food combinations particularly difficult and time-consuming. This formula features organic apple, organic carrot, organic prune, water, and organic lemon juice concentrate that my baby also loved and I felt great about giving her thanks to all of its incredible nutritional benefits.
As babies get older, Baby Gourmet offers more combinations like Sweet Potato Pie and Vanilla Banana Berry Risotto that are all designed to make mealtime easier as well as being healthy. As a mom that believes in eating fresh and organic as much as possible, I love that Baby Gourmet is the next best thing to the food that I would make at home. Only the best for your growing baby. 
Some more of the creative recipes from Baby Gourmet include:
6 months - Simple Purees
Harvest Pear, Pumpkin, and Banana
Juicy Pear and Garden Greens
Orchard Apple, Carrot Prune
7months - Yummy Combos
Baby's Sweet Potato Pie
Roasted Squash and Fruit Medley
Apple, Sweet Potato Berry Swirl
8 months+ - Tasty Textures
Old Fashioned Apple Crisp
Vanilla Banana Berry Risotto
Tropical Banana Bliss
For additional information, please visit: www.babygourmet.com
MOMTRENDS PICKS THE BEST BABY GEAR
Follow the Links Below:
PIN IT!
Make sure you save your fave baby gear and ideas on Pinterest and follow along with our Gear for baby and kid board!
Momtrends was not paid for this post.