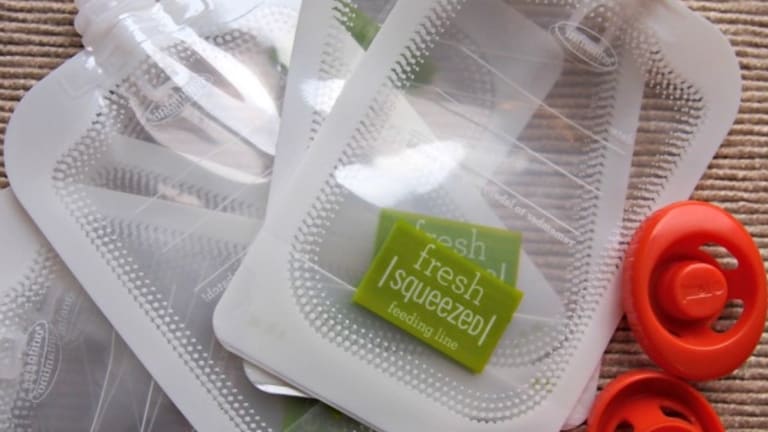 How to Make Your Own Baby Food Pouches
Fresh Squeezed by Infantino Review. A new system to make your own baby food pouches.
Baby food pouches are all the rage these days. I remember when my daughter at eleven months went on a a food strike and would eat food in squeezable pouch form only! It's a common phase for wee ones seeking some independence. Those little munchkins of ours  feel empowered by the ability to feed themselves--even if half of it ends up down their shirts and all over their faces. They have has no interest in utensils when they can just, you know--open mouth, insert food. But, let's face it: those pouches can get expensive. I took on the challenge of seeing if I could make my own.
Related: 5 Game-changing products for baby.
How to Make Your Own Baby Food Pouches
Infantino recognized the trend in baby food and puree pouches and developed a complete system to help people make their own pouches. The Fresh Squeezed Feeding Line is easy to use, comprehensive and affordable.
The Fresh Squeezed Feeding Line is a comprehensive system I to help you make your own pouches. The system is really quite simple and smart.
The main pieces you need to make food pouches is the Squeeze Station. There are no plugs or batteries - this is all people (and brain power on the part of Infantino). The Squeeze Station has three spots to attach empty Pouches. There are slots that hold each pouch in place.
Making Food Pouches with Fresh Squeezed Squeeze Station
Attach a tube to the top of the food pouch, and fill the tube to the desired amount. Each pouch can hold up to 4 ounces of food.
Use the press to move the food from the tube into the pouch.
Twist on the top, label and date your food and you're all set! 
Eat immediately, store in the fridge or freezer. 
While the process is straight forward, it did take a little trial and error. The food has to be pureed pretty fine or it won't squeeze through the top of the pouch. And, the press creates a very powerful suction, so remove it slowly or you may pull out some food (or send it onto the wall like my husband did!).
We appreciate that the set even includes a little magnet for your fridge to remind you how long the food is safe to eat. We keep our pouches in the freezer, move them a couple at a time to the fridge and then I toss one in my diaper bag or my son's lunch box. Neither child has complained about the temperature, which was a concern of mine since you can't easily heat the food. It seems that by the time they eat them, they've reached near room temperature. Or they're just so delicious it doesn't matter if they're a little chilly?
Each Pouch can only be used once, but the reusable Keeper Squeeze Pouch is sold separately. It works the same way as the disposable pouches and is top-shelf dishwasher safe for easy cleaning.
How to Clean Up the System
All the pieces are top rack dishwasher safe and the tubes and press fit inside the Squeeze Station for compact storage.
Max gives our homemade baby food pouches a big thumb's up. With his belly. By literally sucking them empty. I'm still perfecting an applesauce recipe that will please my picky 6 year old, but he's my biggest cheerleader. He loves taste testing them and taking his very own made-just-for-him pouches to school for lunch.
Fresh Squeezed Feeding Line
The Fresh Squeezed Feeding Line includes more than the Squeeze Station. In fact, the Line has everything you need to make, package and store purees. In addition to the smart design, one of our favorite features of the Fresh Squeezed collection is the affordable price tag. The entire system costs - seriously ENTIRE thing - costs less than a popular single appliance that makes baby food.
1. Squeeze Station // 2. Mighty Mill // 3. Peppy Puree // 4. Steam and Mush // 5. 50-pack Squeeze Pouches // 6. Keeper Squeeze Pouch //
7. Couple a Spoons // 8. Fridge & Freezer Sleeve
To Buy or Not to Buy
To Buy... We live our life on the go, and food pouches are made to be mobile. We love the convenience of serving from a pouch and now we can make our own with the awesome Fresh Squeezed Feeding Line. The Squeeze Station is simple, smart and and easy to use. The Pouches are good quality, freezer safe and, most importantly, baby friendly. Max loves that he can feed himself - and I love that mealtime goes off without a hitch.
Or Not to Buy... To successfully press food into the Pouch it has to be pureed pretty fine. I had to fish out some small chunks of apple that got stuck in the small mouth of the tube to the pouch. The Pouches are not reusable so purchasing them may get pricey - certainly less than buying store pouches, but it might be worth investing in several Keeper Squeeze Pouches if you plan to use the system.
Shop! Visit Infantino to read about the entire Fresh Squeezed Feeding Line. The Squeeze Station is $24.99 and a pack of 50 Squeeze Pouches is $17. The rest of the accessories and food preparation products are also available at Amazon.
MORE MOMTRENDS FOR NEW PARENTS
PIN IT!
Use Pinterest to save your favorite gear for baby. Be sure to follow our Baby Things to love board here.
Thanks to Infantino for providing samples.