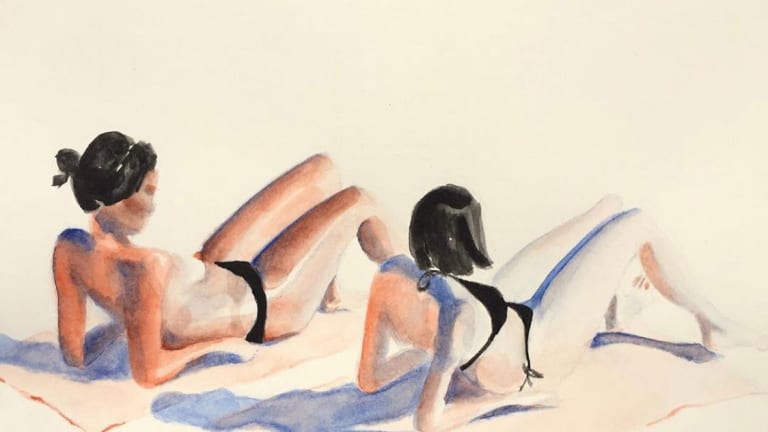 Publish date:
One Night Wine & Painting Party Class: The Art Studio NY
Painting and complimentary wine a fun night of creating for NYC moms who need a break.
Painting and complimentary wine a fun night of creating for NYC moms who need a break.
I am so excited to tell you about the "One night of wine and painting party" class I took at The Art Studio NY. I'm sure a bunch of us moms can use a night out and this class can do the trick. The Art Studio NY offers three hours of painting and complimentary wine while you create a beautiful portrait to hang in your home in one night. The "one night" class is open to everyone from beginners to experienced painters, even first timers." To start, the instructor will give you an inspiration picture to work off of.
There is no right or wrong during the class and all you need to do is have fun, relax, and be inspired. Our instructor, Linda, showed us different techniques such as thinning out paints, composition, brushwork, and textures. She was just wonderful as she let us ask tons of questions and was super informative. They like to keep it to six to seven students at the "One Night of Wine and Painting" class, so you are able to achieve the one on one attention. The Art Studio of NY will provide all of the materials you need for your masterpiece, except you are required to bring your own canvas. At the end of class we all were able to look at each others "works of art." It was amazing to see how the other students interpreted the painting and how different they all were. Overall, the class was absolutely wonderful and I left there feeling super relaxed and inspired. I cannot wait to go back for another "painting and wine" party!
Rebecca Schweiger, owner of The Art Studio of NY is an internationally renowned artist. Rebecca has inspired many people to tap into their creative spirits and live fully expressed lives, both on and off the canvas. By the age of twenty years old, Rebecca's successful art career had begun as her soulful paintings were already being purchased and collected by the world's top art galleries, museums, and collectors.
The Art Studio of NY offers classes to every age and every artistic level, including total beginners. Some of the upcoming art classes at the studio include BYOB drawing and painting classes, drawing in central park, and kids summer camp for four to five year olds which include art, drawing, and yoga. The Art Studio NY also hosts private events such as birthday parties, corporate events and showers.

Five Tips To For a Girl's First Leg Shave
Do you remember your first time shaving? Mine wasn't pretty. I snuck my dad's razor and shaved my legs dry. It wasn't pretty. Get your daughter ready for this rite of passage with the right tools and a quick education. We've got five tips to help you navigate your daughter's ...read more
Why You Should Add Wild Blueberries to Your Diet
Do your New Year's goals involve healthier eating? Adding more fruits and vegetables to your diet? Or even adding tasty new recipes to your repertoire? We've got five reasons for you to add wild blueberries to your diet. Our friends from the Wild Blueberry Association have ...read more
Why Moms are Loving This Blueberry Couscous Salad
It's blueberry picking time. And while most blueberry recipes revolve around baked goods, we've got something different to share. First, a few sentences singing the praises of this lovely fruit. Blueberries are high in antioxidants, improve memory function and reduce the effects ...read more
Here is the inspiration picture and the finished portrait.
More NYC Ideas for Moms
PIN IT!
Be sure to follow us on Pinterest and be sure to follow our New-York Mama board here.
Brianne was once a fashion showroom owner, now turned mom and blogger/writer. She lives in NYC with her husband and two children, and enjoys her fast paced city life. Her blog www.strollerinthecity.com boasts about kids fashions and things that are "mommy". Find her on twitter @strollerincity. 
Momtrends was not paid for this post but did receive a complimentary class.