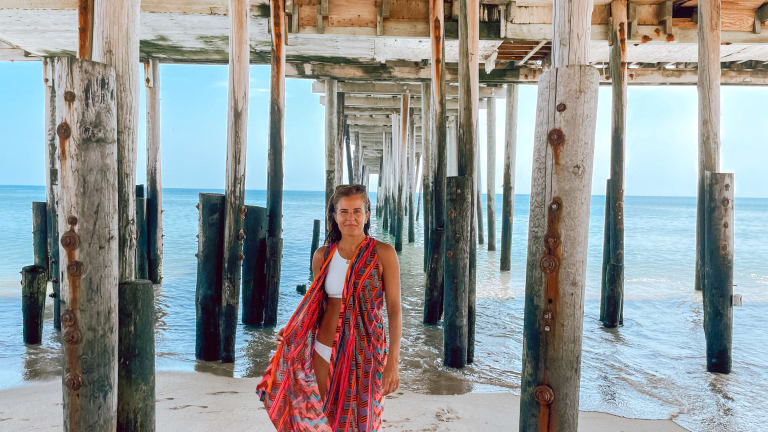 Scarf Tying Demo: Turn Your Scarf Into a Top or Vest
Cut down on your packing and still look stylish with this easy scarf trick
I was at a styling event in NYC when I saw this trick. I was wowed and thought it was a great styling tool - especially for anyone headed to the beach. This is a fun, easy demonstration on how to turn a scarf into a chic cover-up, vest or top. Perfect for your next vacation or anytime you want to freshen up your look. I'm going to show you an easy way to tie your scarf.
Why Scarves Rock As Accessories
I'm all about shopping your closet and I love to dress up an outfit with a scarf. This look is perfect for a trip to the islands. I love this style as a cover-up over your favorite swimsuit or over a tank top for dinner.
Scarf Tying Demo: Turn Your Scarf Into a Top or Vest
Step one: Fold the scarf in half
Step two: Using the small ends of the scarf tie a VERY tiny knot. This knot will create two armholes.
Step three: Slip your arms through the arm holes and you're done!
Scarf Tying Demo: Turn Your Scarf Into a Top or Vest
Where to find large pareo style Scarves
What Type of Scarf is Best
I'm using a Stella & Dot scarf, but any large NOT TOO thick scarf will work. Looking great doesn't have to be expensive or time consuming. Follow these step-by-step instructions and you'll be looking great very quickly.
Have you heard of Stella & Dot? They host in-home sales of jewelry and accessories (and now clothing), if you are looking to become a Mom Boss, it's a good start on the road to becoming an entrepreneur. The book, Mom Boss (available on Amazon and Barnes & Noble) features more than 50 mom CEO's --one is a Stella & Dot salesperson. Check it out! (note this is an Amazon affiliate link)
MORE FASHION TIPS FOR MOMS
PIN IT!
Use Pinterest to save your favorite fashion posts. Be sure to follow our Fashion File Pinterest board here.
This is not a sponsored post. Please note this post has Amazon affiliate links