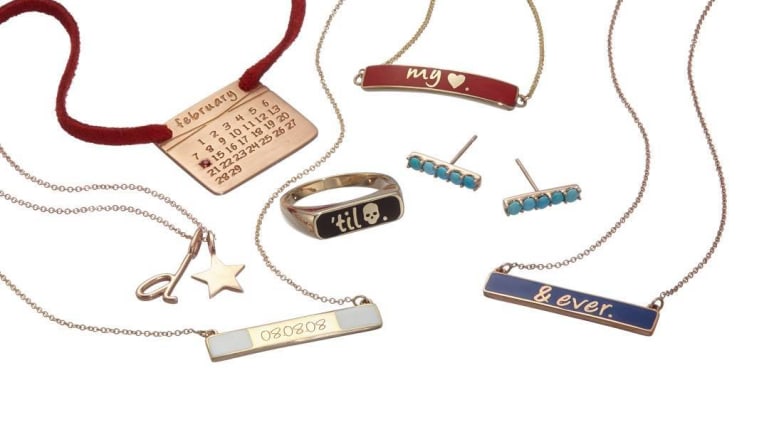 Dalla Nonna Jewelry for Moms
A blend of tradition and trend in jewelry designed to wear every day.
I love personalized and custom jewelry - especially specific and personal pieces from designers that represent a date or moment while also showcasing a unique design. Great accessories can make our mom uniform (jeans and t-shirts) feel better.
Related: 5 pretty ways to organize your jewelry
Timeless Calendar Necklace
I recently discovered such a company with dalla nonna, a jewelry line that specializes in personalized and sentimental jewelry. While looking through their gorgeous collection, I was struck my the craftsmanship of the pieces as well as its vintage appeal.
Started by Rebecca Richards and Jessica Bohrer (Lawyers by day, Jewelry Designers by night), dalla nonna (which translates as "from the grandmother") line inspired by vintage pieces handed down from their mothers and grandmothers, were inspired by vintage pieces handed down from their mothers and grandmothers as well as the idea of making something that was old, new again.
This includes their signature item, a Calendar Necklace, that a sterling silver or 14k gold piece that combines tradition and trend. Suspended on an 18" chain and accented with a sapphire in a color of your choice, I loved how this personal piece can commemorate a date a birthday, birth of a baby, graduation, engagement, anniversary, wedding - all in style.
Another option is the Calendar Bracelet that was inspired from an an old tie pin from Jess' Grandpa Howard. Available in sterling silver or 14k gold, the bracelet is strung on faux suede and accented with a sapphire. This is also a great way to celebrate a the birth of a baby or a loved ones special day.
The Little Letter Necklace is another incredible piece that would be great to showcase a special person in your life with dalla nonna's signature font. Made of sterling silver or 14k rose or yellow gold, the pendant is a great way to showcase your initials, your baby's initials, your pooch's initials or mix it up with words & phrases like "xo," "love" and "mom."
I also loved their Portafortuna Stacking Rings, a collection of traditional good luck symbols (like the heart, wishbone & hamsa), as well as their own personal good luck symbols (the peony, honeycomb & scatter of sparkle) and their stackable 3-stone rings (good things come in 3's!). The rings are cast in sterling silver or 14k yellow or rose gold and set with three sapphires in white, red, pink, yellow, light green, blue or purple. Starting at $180, this collection is a perfect way to build a high-quality ring set.
Featuring sleek and modern designs, the dalla nonna line is perfect for moms who want a unique piece of jewelry that they will treasure forever.
For more information, please visit: http://dallanonnajewelry.com/
Momtrends was not paid for this post.