Before I had three kids and started writing, I was a teacher. I taught high school English for a handful of years and I can tell you, as most teachers will, that teaching is a fulfilling/drive-you-crazy/rewarding/hard/wonderful/tiring/keep-you-up-at-night/make-you-smile/make-you-cry kind of job. Even if you've been in your child's classroom and seen the teacher in action, there is a ton of behind the scenes work, effort, time and money that most teachers give. With Teacher Appreciation Day coming on Tuesday, May 6th, this is the perfect opportunity to say thanks. I asked a dozen teachers that I know – males and females from preschool to high school – for the ways they would best like to be appreciated. Here are their top picks. (Note: No more apple-themed knick-knacks or coffee mugs, please!)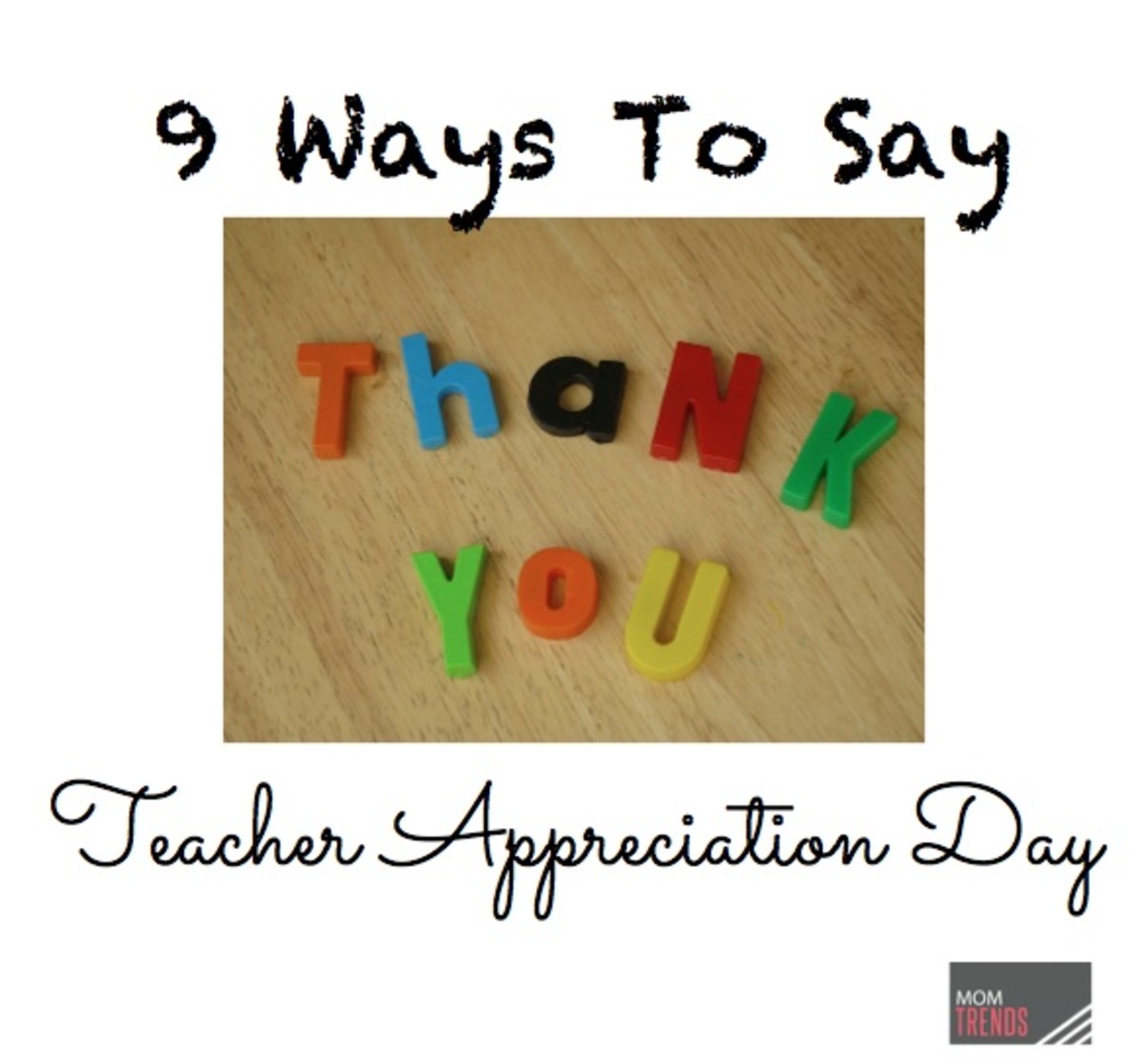 1. Handmade card from the child. A cute picture and heartfelt message by your child always warms a teacher's heart.
2. Sincere card from a parent. Skip the store-bought card and write a short note that tells the teacher how you or your child has benefited from the teacher. Every teacher I talked to had a file of these "pick-me-up" cards to reread on bad days. I even still have mine.
3. Coffee gift card – Gift cards to coffee shops are appreciated IF you see your teacher chugging joe every morning. If not, think beyond the barista. Smoothies or local lunch places can be a great option too.
4. "You Know Me" gifts – Whether your kid's teacher is into gardening or craft beers, books or sushi, a gift that shows you thought about that teacher's interests and likes will put a smile on his or her face.
5. A group gift. Instead of two dozen $10-$20 gifts, combine forces with other parents in the classroom to thank the teacher with a gift certificate for a nice dinner out, spa day or shopping trip to a favorite store. Use sites like GiftCards.com or ShareAGift.com to help make coordinating and collecting money easier.
6. Classroom supply. We're not talking glue sticks and chalk here, but buying a much-needed new CD player, microscope, or books for the classroom library can be another great way to show you care.
7. Something edible – even better if it's saveable. Teachers can get inundated with cookies, cakes and candy which yum! but there are also waistlines and health and with 20-40 kids a class, you can only indulge in so many treats. If you're handy in the kitchen, consider a consumable that can last or be saved for later like homemade frozen cookie dough balls or cinnamon rolls that can be cooked up later, a yummy soup to defrost after a long day at work, a savory snack, or ahem, something a bit more adult.
8. Wine. Speaking of adult beverages, when I was a teacher, I would have completely appreciated a nice note of thanks and a bottle of wine. It says, "I know your job can be tough. Relaxation on me!"
9. Get creative (but not too creative) – Tamales, interesting pottery, a flat of fresh strawberries and free babysitting are just a few of the other creative gift ideas teachers told me they had received, but be wary about those you see on Pinterest. As one teacher told me, "The Pinterest-y teacher gifts are cute, but most teachers don't need a bouquet of unsharpened pencils and rulers." Focus more on being considerate than cute with your creativity.
Teachers – what are your favorite gifts to receive?
[Photo credit: By Flickr user vistamommy [CC-BY-2.0], via Wikimedia Commons]

Momtrends was not paid for this post. This post may contain affiliate links. By clicking and shopping, you help support Momtrends and allow us to keep reporting on trends.
For even more Momtrends, follow us on Facebook, Twitter, Pinterest and Instagram!