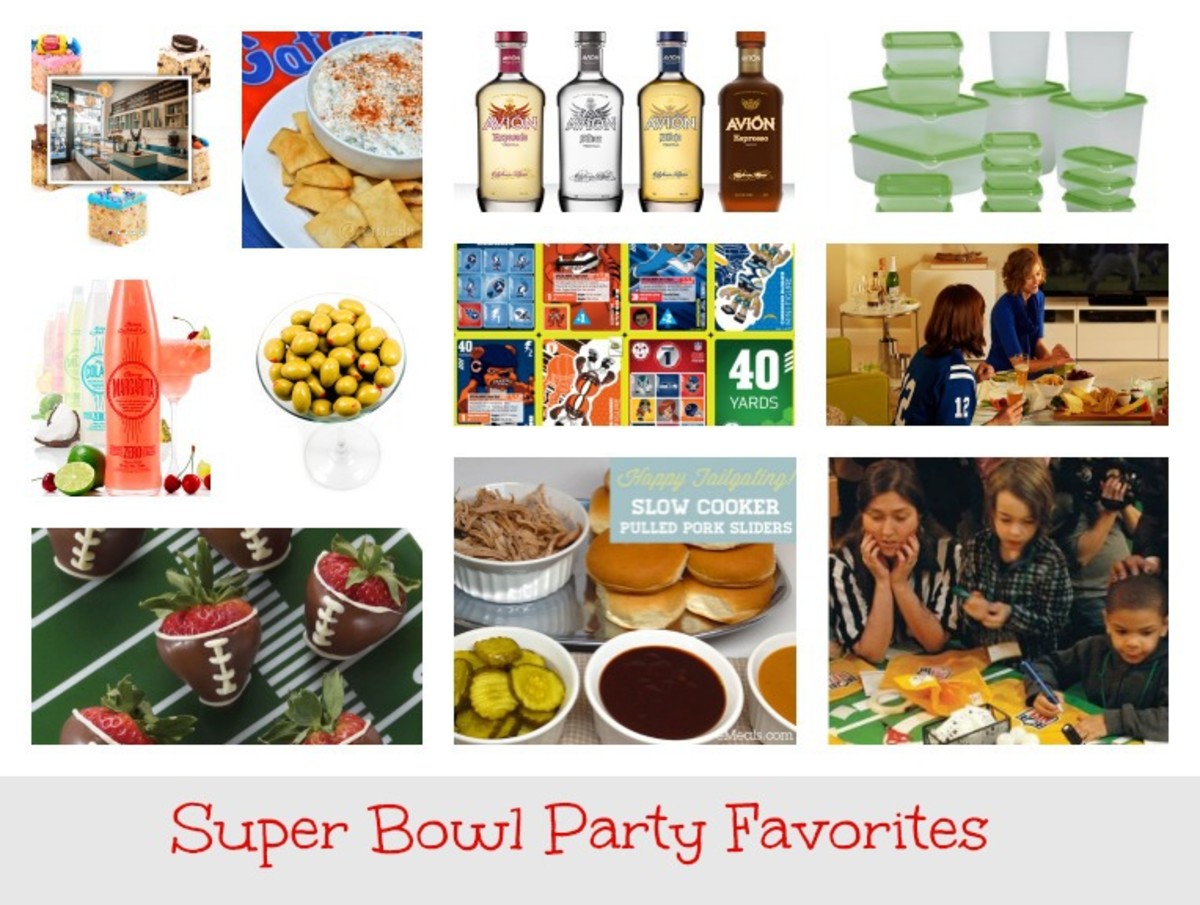 Are you ready for some football? With Super Bowl XLVIII a few days away, we've rounded up some of our favorite items to make your party a success!
Football Events in NYC:
If you are living in NYC, you can build up to the excitement of the Super Bowl by attending some events through Time Warner Cable Studios. Here are just a few of our favorites.
Wednesday, January 29th: SHOWTIME® and Food Network's
Ultimate Tailgate Experience
Time Warner Cable, Food Network and SHOWTIME will bring the Ultimate Tailgate Experience to the Super Bowl with an exclusive tasting experience featuring celebrity chefs from "Chopped" and special appearances by top sports talent from SHOWTIME, plus Victor Cruz and Bill Cowher. While enjoying culinary delights, guests will also be invited to participate in an exciting virtual football experience and to watch their favorite chefs and sportscasters go head to head to create game winning dishes. Customers should follow @TWC and retweet for a chance to score a pair of tickets. January 8- January 10. Held at 440 WEST 14TH STREET, NEW YORK, NEW YORK 10014.
Fun for the Kids:
For kids in NYC, you can enjoy several football related activities with one of our favorites being the You Make the Call: Learn to be An NFL Official at CMOM (212 West 83rd Street)  through February 28.  Through this exhibit, families can understand how developing both executive function skills including planning, organizing, and focusing on task, and physical fitness lead to valuable leadership and social success. Visitors will have the chance to go "under the hood" and make the correct call in the "You Make the Call" booth – a stylized rendition of the sideline instant replay systems used by real NFL officials. Other exhibit highlights include an NFL Play 60 video kiosk and obstacle course to help inspire kids to be more active and healthy; a look at how the uniforms worn by the officials have changed over time; and a sneak peek inside the NFL's control room in Manhattan where officiating personnel monitor all games. For more information and details regarding all of CMOM's programs and initiatives, please visit www.cmom.org.
Kids will want to get into the football party fun, so be sure to have your party stocked with items they will love like the "Kickoff" Starter Deck – It's Time to Enter the Rush Zone, a trading card game, inspired by NFL RUSH ZONE. How it works is players suit up, become their favorite Guardians and battle on the gridiron for the most touchdowns. Players can collect and trade over 300 unique PowerStickerz (sold separately) to boost offensive and defensive power.   "Kickoff" is the first licensed trading card game for the animated series NFL RUSH ZONE on Nicktoons.  Available at major retailers nationwide.
Another favorite is the "Kickoff" Booster Pack – Power up your "Kickoff" Starter Deck with a "Kickoff" Booster Pack.  Each pack comes equipped with 10 cards including two Foil Cards and 1 Sticker SwatchCard with 9 PowerStickerz to boost your gameplay. The pack also comes with an NFL RUSH ZONE Mini-Figure. With Booster Packs, players can collect and trade over 300 unique PowerStickerz.  Kickoff Starter Deck sold separately. Ages 6+. MSRP: $3.99. Currently available at major retailers nationwide.
Snack Happy:
Enjoy snacks leading up the big came with some of our favorites.
??
??One of our favorites is Sugarfina, a high-end online candy boutique featuring candies from all around the world including Pale Ale Pints, Cuba Libre, Chocolate Bacon Pretzels & Toffee and Cola Cuties.
??????
Score the ultimate touchdown at your Super Bowl party by serving delicious and delectable chocolates from GODIVA Chocolatier. Football Truffles and Football Chocolate Dipped Strawberries are sure to awe and delight your guests as they cheer on their favorite team.
Root for your favorite team while snacking on a Game Day treat from gourmet crisped rice cereal emporium, Treat House. Inspired by a charitable school bake sale, Treat House, is serving up team themed treats for the big game along with their classic and innovative flavors, including Bubble Gum, Birthday Cake, Caramel Sea Salt and Chocolate Peanut Butter. Plus treat yourself while treating others: ten cents of every treat purchased will be donated to the Food Bank for New York City. Other offerings include TreatPops, Breakfast Bars, ice cream bars and homemade flavored marshmallows.
???
Drinks: 
We know mixing up cocktails during a tailgate is no small feat, but the alternative means drinking calorie and carb-heavy beer. Miami Cocktail Company brings a solution for your game day woes with their artisanal, ready-made cocktails. Coming in a wide variety of flavors including Original Margarita and Old Time Sweet, these no-work cocktails have zero carbs, zero sugar, zero gluten and 12.5% alcohol each. They're so tasty you won't even miss those extra calories.
Another way to celebrate is with spicy and delicious cocktails from Tequila Avion. Here are a some recipes to mix up the typical drinks you see at a Super Bowl Party:
Winter Thyme Punch
1 1?2 oz. Avión Reposado 1?4 oz. Lime Juice
1?4 oz. Lemon Juice
1?4 oz. Grenadine
3?4 oz. Simple Syrup
3?4 oz. Pomegranate Juice 1 tsp. All Spice
1 sprig Thyme for garnish
Combine all ingredients into a shaker excluding the all spice. Shake and strain into a glass over ice. Sprinkle all spice on top. Garnish with sprig of thyme.
??
Spicy Sage Margarita
2 oz. Avión Silver
3?4 oz. Jalapeño-Infused Elderflower Liqueur 1?2 oz. Orange Juice
1?4 oz. Lemon Juice
1?2 oz. Lime Juice
3?4 oz. Simple Syrup
3 Sage Leaves
1 Sage Leaf and Salt for garnish
Muddle sage in a shaker. Add all ingredients. Shake. Double strain. Pour over ice in salt-rimmed glass. Garnish with sage leaf.
Bloody Maria
1 1?2 parts Avión Silver
4 parts Tomato Juice
2 tsp Horseradish
1?2 part Worcestershire Sauce 2 Dashes Hot Sauce Squeeze Lemon
Squeeze Lime Salt and Pepper
Combine ingredients in a Collins glass with ice, and stir. Do not shake. Garnish as desired.;
While the Super Bowl is renowned for beer, we love the new Slim Chillers' Skinny Freezers. These vodka martinis take the guess work out of planning the perfect party thanks to their exciting flavors and individual sized packaging. Rather than give in to the use of inferior malts or wines, they solely use high grade, 8-times distilled, charcoal filtered Vodka and a delicious flavorful mixer that contains only a total of 100 calories in each serving.  Skinny Freezers are available in four lip smacking flavors modeled off the classic martini and includes berry-filled Cosmopolitan, tart Appletini, decadent Lemon Drop, and sunshine filled Watermelon Lemonade. Squeeze them into a regular old glass and get back to the game or slip them into something a little more elegant for a touch of old Hollywood charm.
Keep Food Fresh:
To keep your recipes fresh, we suggest checking out CoverMate Food Cover's reusable, microwavable and dishwasher safe material allows food to easily go from table to fridge to microwave. Available in five different sizes, the stretch-to-fit covers seamlessly fit any shape or sized serving dish- from an open aluminum can to large platters of food. The reusability of this product saves countless dollars that are literally thrown away each year on one-time use foil or plastic wrap alternatives.
Another favorite for food storage is the super affortable PRUTA food container set from IKEA where you will receive 17 containers to keep your leftovers neatly packaged away.
Recipes:
For recipes, we love the frugal, fun and festive options from eMeals where you will find classic dishes like Bacon Jalapeno Sliders, Slow Cooker Pulled Pork Sliders, and Panko-Crusted Chicken Tenders where you will find the ultimate dishes that your guests will love. 
Bacon Jalapeno Sliders
Ingredients
8 ounces cream cheese, softened
¼ c shredded sharp cheddar cheese
¼ c chopped green onions
2 tablespoons bacon bits
1 teaspoon lime juice
1 garlic clove, minced
Salt to taste
14 jalapeno peppers, halved lengthwise and seeded
Texas hot sauce, optional
Instructions
Preheat grill to medium-high.
In a medium bowl, combine cream cheese, cheddar cheese, green onions, bacon bits, lime juice, garlic, and salt to taste.
Fill pepper halves evenly with cheese mixture.
Place in a container for easy transport.
When ready to cook, preheat grill to medium-high.
Place a sheet of aluminum foil onto grill rack, and carefully place peppers on foil, being sure they don't fall between grates.
Cover and grill 8 to 10 minutes, or until the peppers begin to char and the cheese is melted.
Garnish with a dash of Texas hot sauce if desired.
Panko-Crusted Chicken Fingers
Ingredients
11/2 lb boneless, chicken breast tenders
½ teaspoon salt, ½ teaspoon pepper
2 large eggs
1 cup panko breadcrumbs
1 teaspoon dried parsley
¼ teaspoon garlic powder
Instructions
Preheat oven to 450 degrees; place a large rimmed baking sheet in the oven while it preheats.
Sprinkle chicken with salt and pepper. Whisk eggs in a shallow dish. Combine breadcrumbs, parsley and garlic powder in another shallow dish.
Dip chicken in egg; dredge in breadcrumbs, pressing to coat. Place chicken on a wire rack.
Coat chicken with cooking spray. Remove pan from oven, and coat generously with cooking spray. Arrange chicken tenders on baking sheet. Bake 20 to 25 minutes or until chicken is done. Serves 4.
Slow Cooker Pulled Pork Sliders
Ingredients
6 lb bone-in pork should roast, trimmed
2 teaspoons salt, 2 teaspoons pepper
18 oz bottle barbecue sauce
½ cup chicken broth
2 tablespoons apple cider vinegar
2 (12-count) packages slider buns
16 oz jar bread and butter pickles
Instructions
Sprinkle roast with salt and pepper.
Combine roast, barbecue sauce, broth and vinegar in a 5- to 7-quart slow cooker.
Cover and cook on Low 8 hours or until roast is very tender.
Remove pork to a cutting board; shred with 2 forks.
Return pork to slow cooker, and discard bones.
Toss pork to coat with sauce; serve on slider buns with pickles.

Momtrends was not paid for this post.