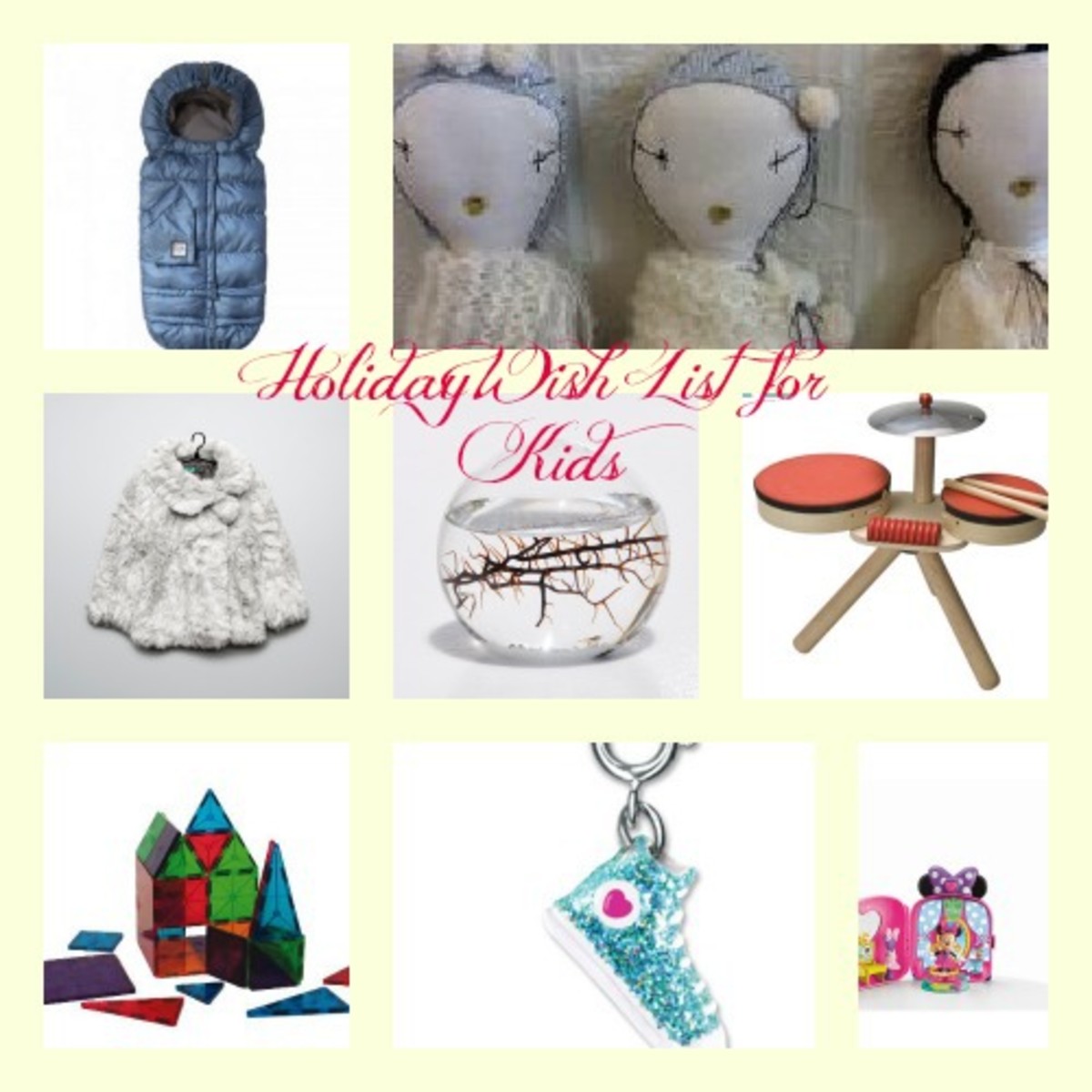 The team at Momtrends loves to share our unique gift ideas for moms and kids during the holiday season. We are kicking-off the series with our selections for our kiddos with a list filled with toys, clothing and books as selected by our talented team of writers and editors. Check out their top finds to inspire your own holiday shopping.
Anna of Random Handprints (Writer):
For my kids, I love Magna-tiles ($51.50 for a 32 piece set) available at Amazon. These magnetic tiles can be used to build all kinds of amazing things – and best of all it's a toy my kids (ages 4, 7 and 8) can all enjoy. Available as both translucent and opaque tiles, a mix of both is great for kids to make designs, as well as "windows" and "doors" in buildings and vehicles.
Brianne of Stroller in the City (Writer and Maternity Columnist):
I purchased a collection of Jess Brown dolls for my daughter since before she was born. They have done collabs with some of my favorite children's designers such as Woven Play and Atsuyo et akiko. This year I want to get her thesnowflake edition.
Elizabeth of Wee Westchester (Writer):
My three year old is obsessed with Minnie and the cool Minnie Mouse Bow-tique Fashion on the Go Playsetincludes a stage. My daughter is a little performer and she will love making Minnie get ready for her show and then performing on a stage that moves and lights up!
Heather of Theta Mom (Organizing Columnist):
For kids, I love Charm It! I am excited about this product because my daughter can choose her own charms to add to a bracelet and truly make it her own personal style! Giving Charm It as a gift also serves as a special keepsake for my daughter for many years to come!
Kaity of When Babies Blog (Writer):
For my son, I really want the 7 a.m. Enfant Blanket 212evolution. Our main way of getting around is on foot and with winter here it would be nice not to worry about one more layer on my babe. This stroller blanket will keep him warm for winters to come.
Lindsay of Lindsay Brooke Style (Columnist for 'Get the Look with Lindsay' and Writer):
This Zara fur 3/4 length coat is my favorite Winter coat of my daughter's. Because she's on the petite side it fits her perfectly in the sleeve and hem lengths. It's the perfect gift because it's fashionable, cute, faux (so no animals were harmed in the making) and easy to throw in the stroller! it's also reasonably priced at under $50! After all, kids are kids (messy!) so I don't believe in spending all kinds of silly money on something that will ultimately get ruined or outgrown.
I love giving the gift of books to children. My daughter loves when I read to her, as well as flipping through the pages on her own (and occasionally munching on the books!). Good Night Moon is a classic. It's also the perfect "fat" size for a baby to easily grasp.
Mandy (Creative Director):
If the kids have been begging for a pet give them what they wish for and a science lesson with this amazing self-contained shrimp eco system that comes in a glass sphere that won't pour out. Here's the best part: You don't even need to feed them! Plus, they live on average 2-3 years, so it'll be the gift that keeps on giving.
Michelle of Everything's A Buzz (Columnist for 'Synching Your Style' and Writer):
As a mama I always strive to keep our toys safe, Eco friendly as well as educational. This year we're surprising the kids with a musical center from PlanToys. We know they'll love making music together but we think it's perfect for when they want to be a "one man Band" too! We love how committed Plantoys is to protecting and preserving our environment.This musical station is attractive and is sure to inspire loads of sing alongs!
Momtrends was not paid for this post.