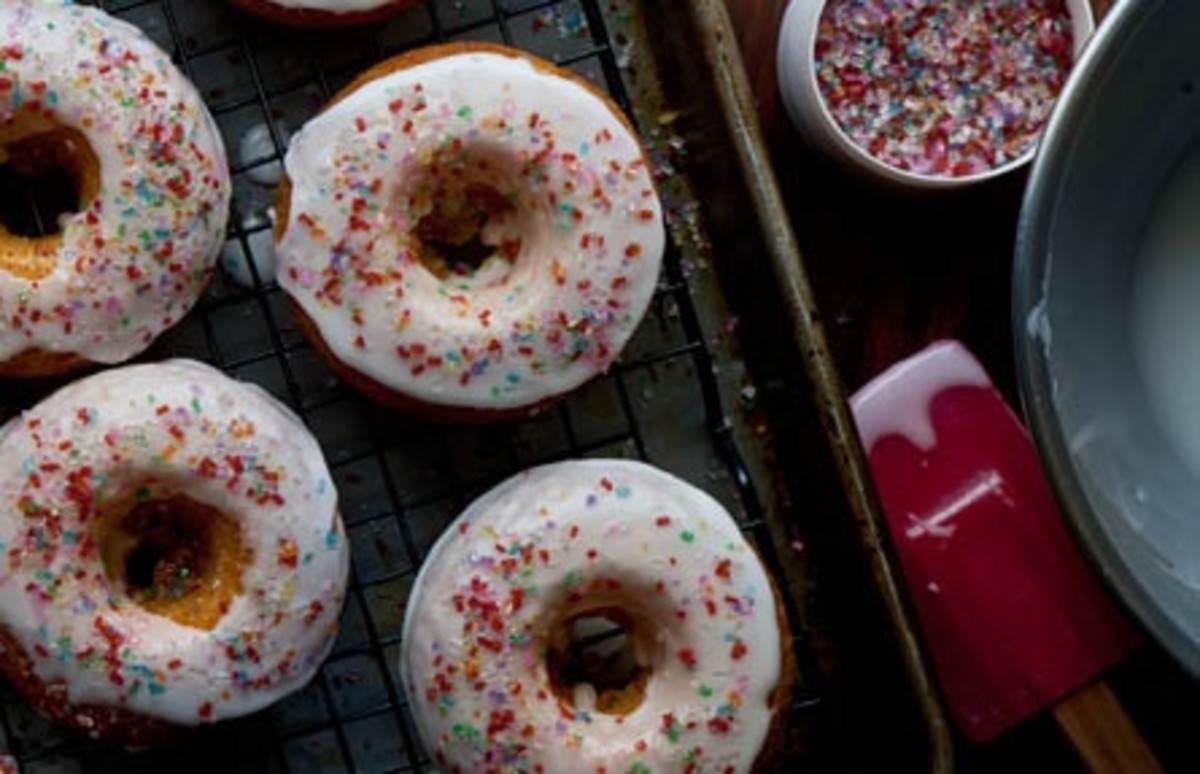 We recently discovered a fantastic new digital food and gluten-free lifestyle magazine and we are thrilled to feature one of their recipes in today's Friday Food. Launched by Amie Valpone of The Healthy Apple, Easy Eats features gluten-free recipe  ideas as well as general recipes. The premiere issues features a great article called "Yes, You Can Have That!" along with 35 recipes, including these amazing vanilla-glazed chocolate chip donuts. Enjoy!
Vanilla-Glazed Chocolate Chip Donuts
Makes: 24
Prep Time: 15 minutes
Cook Time: 15 minutes
Ingredients:
Gluten-free nonstick cooking spray
3 cups Silvana'??s Gluten-Free All-Purpose Flour Blend (see below) or your favorite store-bought gluten-free flour blend
2 cups granulated sugar
4 teaspoons baking powder
1 teaspoon salt
4 large eggs or equivalent egg replacement, at room temperature
1'?2 cup vegetable oil
1 teaspoon vanilla extract
1 1'?2 cups milk or nondairy milk
1'?2 cup mini chocolate chips, such as Enjoy Life
4 cups confectioners'?? sugar, sifted
Sprinkles, for topping
Directions:
1. Preheat the oven to 350°. Generously grease four nonstick 6-doughnut baking pans with cooking spray. In a large bowl, whisk together the flour blend, granulated sugar, baking powder and salt.
2. In a medium bowl, whisk together the eggs, oil, vanilla and 1 cup milk until smooth. Add to the flour mixture and whisk until combined; stir in the chocolate chips. Fill each doughnut cup two-thirds full. Bake until golden and a toothpick inserted in the center comes out clean, about 15 minutes. Let cool completely.
3. Meanwhile, in a small bowl, combine the confectioners'?? sugar and remaining 1'?2 cup milk. Dip the doughnuts in the glaze to coat; top with sprinkles.
Silvana's Gluten-Free All-Purpose Flour Blend
Makes: about 4 pounds
Prep Time: 15 minutes

Ingredients:
6 cups white rice flour
3 cups tapioca flour, preferably Shiloh Farms
1½ cups potato starch
1 tablespoon salt
2 tablespoons xanthan gum
Directions:
In a large bowl, whisk together the rice flour, tapioca flour, potato starch, salt and xanthan gum. Transfer to an airtight storage container and place in a cool, dry place or refrigerate.
What are you cooking this week? Link up and share!