It's time to stock up on spring fashions at Old Navy. This week we kicked off the Old Navy Kids & Baby Sale by bringing together an A-team of shopping moms for a day of deal spotting at the Old Navy on 18th Street in Manhattan.
I joined, Allison, Brianne, Scherrie, Serena, Courtney, Libby, Pam, and Jessica to scope out a sale strategy. Between the eight of us, this blogging group has 13 (and almost 14…Brianne is expecting) kids. The ages of our broods range from 6 mos to 12 years. We know a thing or two about shopping.
Each mom had a strategy. Scherrie, likes to match outfits. Pam picked more sophisticated cuts for her older daughter and splashier prints for the younger. Allison subtly works in color for her boys.
We all agreed that it's key to have a list of what you need before you hit the sale, but to also leave some room to get inspired. TIP: Shop early when the store is emptier and the kids aren't tired or hungry!
The big hits of our adventure were: Colored denim: Almost every mom gravitate towards colored denim–even for the boys. Graphic tees: From superhero's to YO Gabba Gabba, each mom put at least one graphic tee into her Old Navy shopping tote. Shoes: Yes, there's no need to make a separate stop at a shoe store for the kids. Old navy has insanely cute shoes. Libby found some silver boat shoes for her little dude, Brianne scored some awesome jelly sandals for her girls
What did I find? I was sold on the sparkles! Both of my girls love sparkly shoes, so I picked up a pair of sneakers and a cool slip-on boot for the girls. And I can't shop Old Navy without loading up on the skinny jeans. Both of my girls are on the slim side, finding jeans that fit in the trendy colors is never a problem at old navy!
The best part of shopping an Old Navy sale is sharing the loot with the girls. On the way to school they were thrilled to show off the new shoes. Check out this sidewalk action!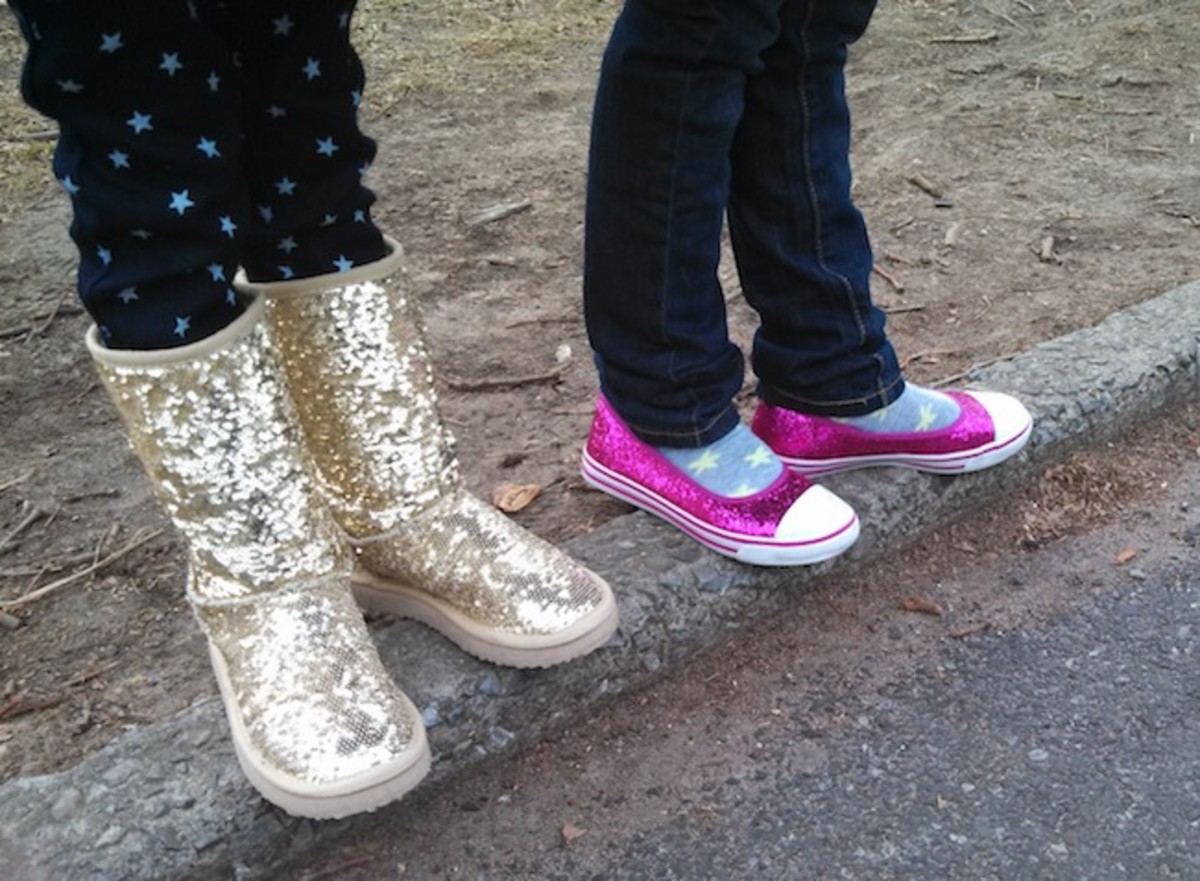 Don't miss the Old Navy Kids and Baby Sale. The sale runs from 2/7-2/20 with savings of up to 40% both in stores and on-line (save even more if you are an Old Navy credit card holder–I got a $15 coupon in the mail to really rack up my savings.
Old Navy Kidtacular Pinterest Sweepstakes–CONTEST CLOSED
Click here for the official sweepstakes rules
This is a sponsored post.
You might also like the following articles: