Thank you to LeapFrog for sponsoring this review.  For more information about LeapFrog Tag Get Ready for Kindergarten, please visit their website #LeapFrogTag #spon
Yesterday I mentioned how much my daughter and I have been loving learning all about the systems of the human body together. Thanks to our Tag reading system we have the option to enjoy a variety of interactive stories exploring various subjects (science, writing and geography) to developing her reading skills through popular story characters (Toy Story 3, Finding Nemo, etc). Since she is 4.5 years old and very excited for pre-k we have been exploring reading, math and social studies skills through the LeapFrog book, Get Ready for Kindergarten.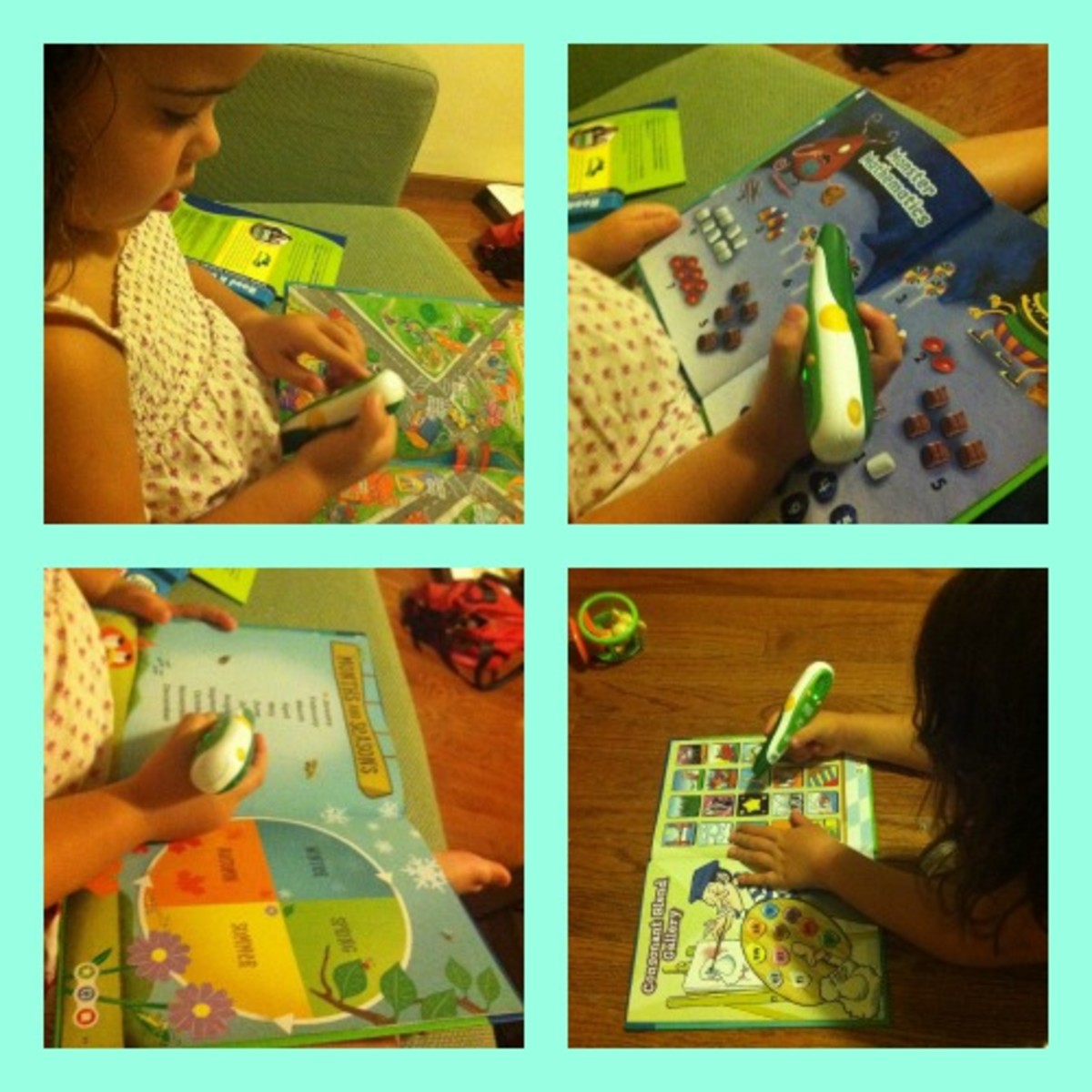 Much like the  Tag'"¢ Interactive Human Body Discovery Pack, this story includes visual instructions where kids and their parents can understand symbols to represent keys on the Tag reader. For example, a book means read the page and a star means game. After we had the symbols figured out we started looking through the book and discovered pages chock full of information.
My daughter started with the first page, 'ABC Snack Time' where she placed the Tag reader on the letters and listened as various pictures of food recited their names and sounds. Although she knows the alphabet it was fun to hear the sounds, and then play the game where we had to match up letters based on various questions. We also loved the page called 'The Vowel Show' where she learned exactly what vowels are as well as what sounds they make. She is also really into art, so she loved the 'Consonsant Blend Gallery' page that showcased a picture of a painting Through the game she had to listen to instructions from the reader to match up sounds like 'gr,' 'fl,' 'tr,' etc. This was challenging for her since we haven't tried anything like this before, but we worked through it together and it was fun to explain how the sounds come together to make words.
For math skills she worked on the page 'Skip Counting' where she had to find numbers, count by 10, or use her tag reader to hear each number up to 50. She really loved the 'Monster Mathematics' page that was illustrated with monsters who love candy. Through the candy she had to help the monsters figure out how much candy they have. This involved using skills like greater than/less than as well as a number matching component.
She also learned more about the order of the months and the seasons, days of the week (as listed on a calendar), jobs in the community, and emotions in 'Feelings Funhouse' where she had to match children that are happy, sad, angry, silly, etc as well as musical instruments that correlate with those emotions. We both loved 'Dinosaur Class Photo' where we learned all about dinosaurs and what they ate. She had fun matching the dinosaurs as well as learning their names – laughing at how long they were.
As an interactive and fun multi-subject book, my daughter really enjoyed learning new skills as she explored topics like reading, math science, social studies and geography that is tapping into her excitement for learning and curiosity. As she goes off to pre-k this year I am excited to use our Tag reader through their extensive library of interactive books, puzzles, maps and more.
Check out this fun video all about the Get Ready for Kindergarten system:
I was selected for this opportunity as a compensated member of Clever Girls Collective and received free product from LeapFrog to review. The content and opinions expressed here are all my own. #LeapFrogTag #spon